Thousands of Ukrainian troops have lost limbs stepping on Russian land mines. A U.S.-based charity is helping a lucky few of them get fitted for prosthetics
As casualties continue to mount nearly a year and a half into Russia's war against Ukraine, one American charity has stepped up to help Ukrainian soldiers who have sacrificed limbs in defense of their country and yet still seek to return to the battlefield. For these troops and New York City-based nonprofit Kind Deeds, the oft-cited phrase rings true: Only the dead have seen the end of war.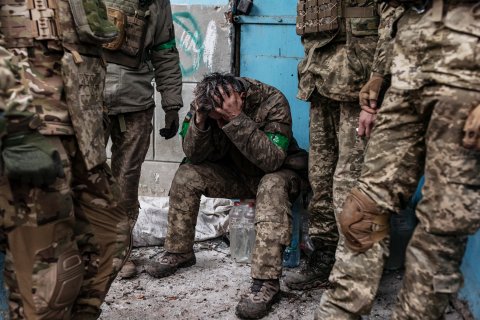 "In October 2022, our first two active duty Ukrainian soldiers traveled to New York to get their prosthetics fitted," Oleksandr Rubtsov, the Ukrainian American president of Kind Deeds told Newsweek during a visit to Warsaw, Poland, in May. "Thanks to our help, over 20 soldiers are already back on their feet, but we have 200 on our waiting list, and it would take 100 more organizations like ours to fully meet the need."
The true scope of the crisis may be even larger. The Ukrainian military is very secretive about casualty statistics, but sources in a position to know put the number of wounded soldiers awaiting a prosthetic leg or legs at over 10,000.
Like many of the volunteer groups that have sprung up to aid Ukraine since the start of Russia's full-scale invasion in February 2022, Kind Deeds began simply by doing what it could.
On the second day of the war, Rubtsov, who had been working in Miami real estate after moving from his native Kremenchuk in 2015, bought an airplane ticket to Krakow, Poland. From there, he began organizing evacuations of Ukrainian civilians caught in the warzone.
"Our first project was to rent three 50-seat buses," he said, "and for two months we were bringing people out of Kyiv, Irpin and Bucha."
He explained that the transition to helping soldiers secure prosthetic limbs occurred largely by chance.
"The evacuees were almost all mothers with children, and one little girl from Bucha had had her arm amputated after the strike that killed her father," Rubtsov said. "We had no experience organizing for prosthesis, but through her we learned the process, and after that, we began assisting soldiers."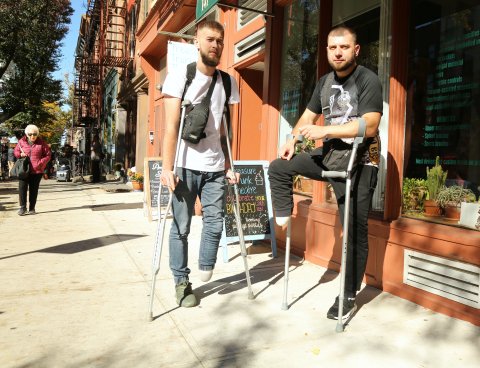 The overwhelming majority of the soldiers Kind Deeds has helped sustained their injuries stepping on antipersonnel land mines. All four members of the most recent cohort to make the trip to New York had sustained similar injuries under similar circumstances.
Rubtsov says the average cost per soldier is $20,000, including transportation, housing, medical expenses and incidentals. That's more than it would cost to equip soldiers with prosthetics closer to home, but Rubtsov says the experience itself is part of the process.
"A change of scenery helps the guys to relax mentally and recover faster," he said. "We take them to concerts, to visit schools, to meet American veterans, to ride bicycles around Central Park on their new prosthetics, and they come back to Ukraine as different people."
Oleh, a 35-year-old marine from Odesa, a city known for its sense of humor, described the story behind the amputation of the lower part of his right leg as having been "funny enough."
"We were storming a Russian position from two directions, and the group coming from the other side got into a fight," Oleh said. "I was the only guy in our group with a medical kit who knew how to use it and they needed someone to attend to the wounded. Our commander sent a message that, 'We have a full senior lieutenant who can help.' But I was a full senior lieutenant for only around 15 more minutes, because on my way around to where our wounded guys were waiting, I stepped on a mine."
He paused before delivering the punchline: "After that, I became a senior lieutenant without a leg."
It was 23 hours before Oleh made it to a hospital. After sustaining his injury, he still managed to limp to the spot where the remaining wounded were sheltering. After setting an alarm that woke him up every 40 minutes in order to monitor his condition, an evacuation was organized. Oleh, along with a handful of other wounded comrades, limped for over an hour to a point where vehicles could safely pick them up.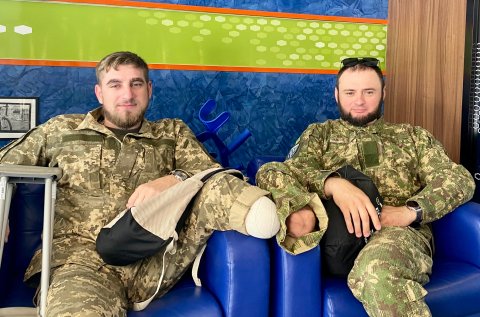 Oleh was injured last October, but it was this June before his leg was physically ready to be fitted with a prosthetic. Battlefield amputations often fail to cut the bone at a proper angle, and in Oleh's case, a second surgery was needed in order to ensure that he would be able to walk normally on his new leg.
"When we tried to start using a temporary prosthetic, it turned out that my amputation wasn't suitable," he said. "It really, really hurt, and it hurt constantly, but we did a reamputation, waited for two more months for the wound to heal, and now everything is ready."
"The most important thing to avoid going forward," he added, "is stepping on land mines."
According to Rubtsov, approximately half of the Ukrainian soldiers who received prosthetics through Kind Deeds have returned to military service, with several of them already engaged again in frontline combat. When asked about his future plans, Oleh expressed his intention to join them.
"I have experience that can save lives," he said. "There are so many young guys who are getting called up. They haven't seen hardly anything of life, they don't know what they're doing, they get thrown into the war, and they get killed."
"But I've been through it," he added. "I know how to survive in that environment, and as soon as I'm on my feet, I'm going back to the trenches."
Another soldier in the group, Ghavriil, a 25-year-old artillerist with a two-and-a-half year old daughter back home in Chernivtsi, expresses a similar sentiment.
"If not for my family, maybe I would look for a way to move abroad," he said. "But I have a responsibility not to allow my wife and daughter to be driven from our home. When I'm healthy, I'm going back into the fight."
Ghavriil talked about his encounter with a land mine as a learning experience.
"You understand that life is never going to be the same as it was before losing a leg, but that isn't necessarily a bad thing," he said. "Just as an example, My wife broke a window at home and responded morally and emotionally like it was the end of the world. Before my injury, maybe I would have agreed with her, but now I could look at the broken glass and calmly understand that, relatively speaking, the situation really wasn't so bad."
That is a situation that thousands more Ukrainian soldiers are likely to face before the war comes to an end. A June 13 report from Human Rights Watch recommended "all parties to the armed conflict in Ukraine should ensure that no antipersonnel mines are used by any actor and destroy any antipersonnel mines that they have seized or otherwise acquired."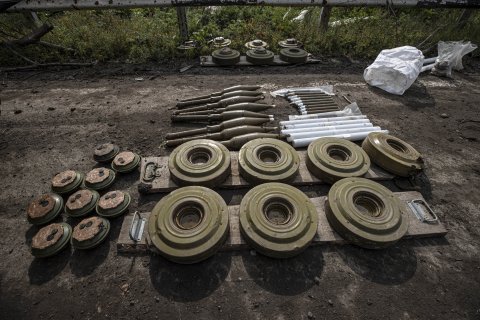 Ukraine is clearing some of the mines it laid in 2022, when there were fears amphibious operations might target coastal cities including Odesa. Ukrainian volunteers are also removing Russian mines from recently liberated territories in the Kharkiv and Kherson regions.
However, in advance of Ukraine's counteroffensive, Russia laid more mines along the war's 600-mile front line, which stretches from the bank of the Dnieper in central Ukraine, through the Zaporizhzhia, Donestsk and Luhansk regions, all the way to the Russian border in the east. Many Russian mines laid along the river were washed away in the flooding after the Nova Kakhovka dam disaster on June 6. Over a month later, warnings remain against swimming at Black Sea beaches where unseen ordnance may still wash up.
The most acute danger from mines is not to civilians, but to soldiers probing Russia's defensive lines. Despite the provision of Western-made MRAPs (mine-resistant ambush protected vehicles), Ukrainian soldiers continue to suffer injuries like those that befell Oleh, Ghavriil and the majority of amputees Kind Deeds has helped.
As the most recent cohort of wounded soldiers rode from Lviv to Warsaw the day before an appointment at the U.S. Embassy, a video, released by a unit involved in the counteroffensive, circulated on social media. It showed drone footage of a Ukrainian platoon dismounting from armored vehicles in what turned out to be a Russian minefield.
Over the course of 13 minutes, four soldiers were seen to suffer injuries that looked familiar to the Kind Deeds amputees. They passed the phone around and with each new explosion, gave a nod of recognition.