Yumi Stynes, the co-author of a sex and sexuality education book aimed at teens, has earned a boost in social media popularity despite criticism and death threats from detractors.
Welcome to Sex: Your No-Silly-Questions Guide to Sexuality, Pleasure and Figuring It Out was released in May and is aimed at children aged 12 to 15. It covers such topics as consent, safer sex, masturbation, sexual positions and gender identity.
The book was met with a barrage of criticism, with some deeming the target audience too young for such content and accusing Stynes, 48, of "grooming" children. Stynes, meanwhile, has defended the book, saying in a recent Instagram post that her intention was to do "the absolute best for our young readers."
Amid the backlash, Welcome to Sex was pulled from sale at Big W bookstores in Stynes' native Australia after staff members were abused. Stynes this week shared screenshots of abusive direct messages she has received on Instagram.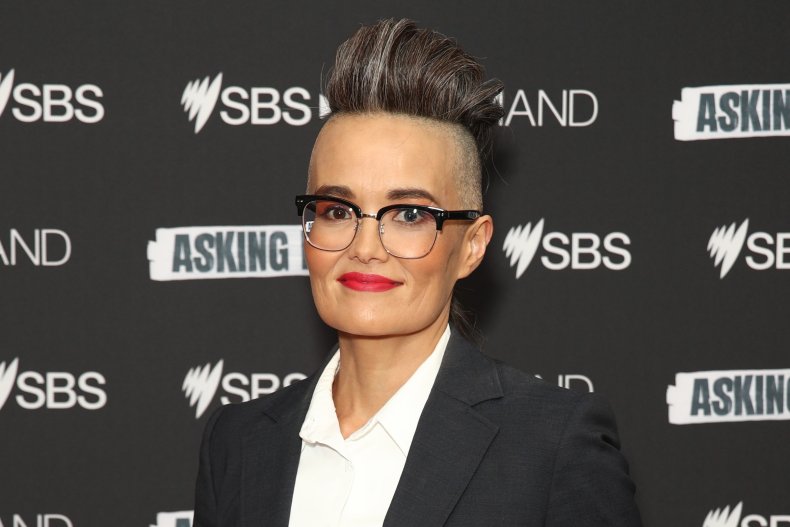 Despite the criticism, Stynes has seen an uptick in followers on her social media accounts. According to data from Social Blade, Stynes has gained 5,700 new followers on Instagram over the past 30 days. Her biggest boost on the platform over the past two weeks came on July 22, when 2,143 accounts followed her. Her tally of Instagram followers currently stands at over 52,000.
On Twitter, Stynes' increase in followers has been more modest. After several days of losing a few followers (the biggest drop was 11 on July 14), the trend was reversed on July 18, when she gained 85 followers. Since then, the numbers have increased steadily, giving her a gain of 464 over the past 30 days. Stynes currently has a total of more than 38,000 followers on Twitter.
Abusive Messages
Over the weekend, Stynes took to Instagram to share screenshots of a slew of abusive direct messages she has received over her book. According to the images, the writer was subjected to graphic threats—including death threats—and targeted with slurs. Many of the Instagram accounts in question appeared to be anonymous.
Stating that she didn't include screenshots of the supportive messages that had been sent to her, for fear those people may also be targeted, Stynes said in an accompanying caption that she believes "passionately in the good" that her books do for young people.
"The books are so rigorously checked and resourced and researched," she wrote. "To write the book we literally assembled a team of professors, doctors, researchers, sex educators, people who are experts in abuse prevention and body safety education.
"All we wanted to do was the absolute best for our young readers. It was crucial to our personal ethics. So there is no insecurity nor concern from me about Welcome to Sex.
"What does concern me is impunity: The impunity with which men think that they can attack women," the podcaster and author continued. "It's a concern of mine and it will continue to be an ongoing concern, and the best way these abusers can be called to account is by shining a light on them."
Man Arrested
The Guardian reported that a man aged 23 was arrested in Sydney suburb Balmain on Friday and charged with one count of "use carriage service to menace, harass or offend."
"Officers from Leichhardt police area command commenced an investigation over alleged online threats to a 48-year-old woman," said a spokesperson for New South Wales police, per the news outlet.
"Following inquiries, a 23-year-old man was arrested at Balmain police station. He was then taken to Newtown police station, where he was charged with one count of use carriage service to menace/harass/offend."
The man, who is under conditional bail, is due to appear in a local court on August 11.
Last week, when sharing a video sent to her of someone buying Welcome to Sex from a bookstore, Stynes wrote on Instagram that she was "really proud" of the book.
"It was authored by myself and Associate Professor of Adolescent Health, the revered and (extremely) intellectually and academically rigorous Dr. Melissa Kang," she added. "As part of our research we interviewed stakeholders in preventing sexual abuse, educators who go into schools to talk about sexual safety, sexologists, therapists, frontline doctors, nurses and many, many teenagers.
"It's A BOOK, PEOPLE. If you don't want to read it, by all means, don't read it. If you don't want your kids to read it, you REALLY don't have to buy it for them."
Back in April, Stynes said in an Instagram post that the book would likely protect children from a number of the issues that affect people today.
"MANY of the discussions around consent, the putrid effects of porn on real-world sex, and keeping us all safe in moments of intimacy—come back to teaching about sex and consent—AND STARTING THAT TEACHING YOUNG," she wrote.
She went on to describe Welcome to Sex as "a book for young ones who aren't necessarily practising any partnered sexual activities but who are curious enough to google—and whose parents would prefer this early (and influential!) info come from legitimate and researched sources who understand exactly who their audience is—rather than the unbounded limitlessness of the internet."