One of the biggest strengths of the Democratic Party has been our diversity. From the leaders that have been the first to represent their communities in office to the voters that continue to grow in numbers—the Democratic Party represents every aspect of the American electorate from race, geography, age, religion, and even ideological standing on the policy spectrum.
Most nonwhite voters in America, by large margins, identify as Democrats. Though the numbers have shifted in recent years, on average more than 85 percent of African Americans vote for Democrats and 65 percent of Latinos nationally have historically voted for democrats. Similarly, elected officials that identify as something other than non-Hispanic White are more often Democrats than Republicans. In the 118th Congress 133 senators and representatives (or one quarter of Congress) today identify as Black, Hispanic, Asian American, American Indian, or Alaska Native, according to a Pew Research Center Analysis of data from the Congressional Research Service. Of those voting members, "the vast majority (80 percent) of racial and ethnic minority members in the new Congress are Democrats, while 20 percent are Republicans."
It stands to reason that geography follows similar patterns. When looking at major cities in America like New York, Los Angeles, Chicago, San Francisco, or Houston Democrats fill most positions of power. There are a few exceptions like Miami, Florida, or Fort Worth, Texas, but even those outliers continue to see investment, organizing and enthusiasm by local Democrats to build political power. Even in states where Donald Trump won by large margins, Democrats are still represented at the highest levels: Sen. Jon Tester in Montana, Sen. Joe Manchin in West Virginia, Gov. Laura Kelly in Kansas, Gov. Andy Beshear in Kentucky to name a few.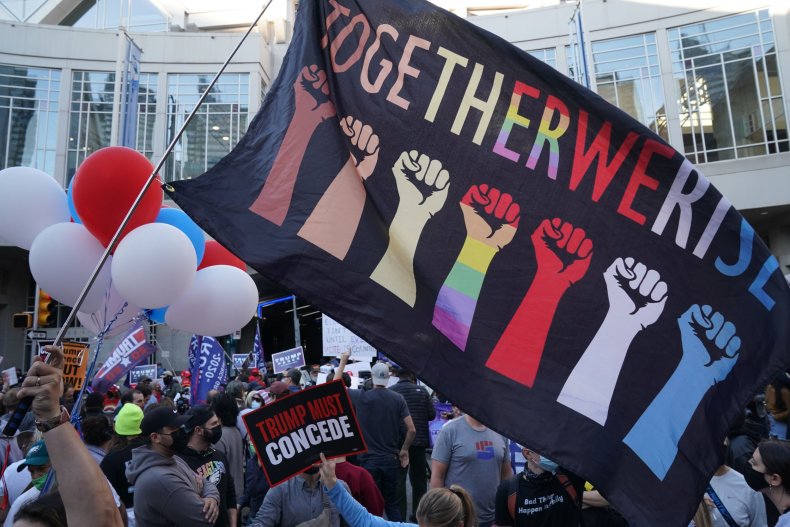 Age is such an interesting and increasingly important factor that also highlights the Democratic Party's diversity. From the country's youngest to oldest voters, Democrats have been successful in winning blocs at every age. When I (54) look at my own family, with my son (34) and my mom (72) all in the same party, I think about the issues democrats have championed that resonate for us individually. Democrats have always been the party to openly talk about protecting Social Security and Medicare while also championing student loan forgiveness, legalizing marijuana, and other issues that drive these young and old electorates.
Diversity of thought and stances on issues by members of our party is clear when we see moderate Democrats like Rep. Jared Golden from Maine working alongside the chairwoman of the progressive caucus, Rep. Pramila Jayapal from Washington state. They both caucus and run under the same Democratic banner, each bringing a different perspective but ultimately still fighting for the same end goal of delivering for their constituents. In the Senate there's even more contrast with people like West Virginia's Manchin and Massachusetts' Sen. Elizabeth Warren. At the state and local level, the differences can be even more stark, highlighting our parties ideological diversity.
Religion isn't often considered in a conversation about diversity, particularly in concert with Democrats, but there are probably more varying religious affiliations in the Democratic party than any other party. Democrats were the first party to elect a Catholic to the presidency—twice! While a majority of both parties in Congress identify as Christians, members of the Democratic Party are also Muslim, Unitarian, Hindu, Buddhist and humanists. There are nonbelievers, who former President Barack Obama called out to in his first inaugural address.
I'm personally a born-again Southern Baptist. Those beliefs, along with my identity as a Mexican from East Texas have not conflicted with my belonging to the Democratic Party. Since I was 19, I've proudly called myself a Democrat. At the time there weren't many people that looked like me and to this day I continue to fight to make more space in our party. Thankfully, the Democratic party is too.
The last point on where diversity of race and class is highlighted that I'd like to make is in the staff and consultants in our party. In the 2020 Democratic presidential primary, the majority of the candidates has a person of color from a working-class background as their manager, including: Sen. Bernie Sanders, Sen. Cory Booker, Warren, former Secretary of Housing and Urban Development Julian Castro, and then-Sen. Kamala Harris. The Republican 2024 campaign managers are almost 100 percent white men and women, just like the majority of their party. There is no doubt that the Democratic Party values diversity in a way our opponents do not.
Chuck Rocha is an American political consultant, Democratic Party strategist, and former union organizer who is the president of Solidarity Strategies.
The views expressed in this article are the writer's own.