If it was up to Ukraine, the country would already have NATO membership. Ukrainian officials have been lobbying their partners in the transatlantic alliance to provide them with a clear, unadulterated path toward becoming a full member. "Ukraine is choosing the Alliance, NATO's door is open, so it is time for an invitation to enter," Ukrainian President Volodymyr Zelensky said recently. Zelensky and his advisers have influential allies in the effort; a July 5 open letter signed by a former U.S. deputy secretary of state, former NATO commanders, and a list of former U.S. ambassadors urged the alliance to "launch a roadmap that will lead clearly to Ukraine's membership in NATO at the earliest achievable date."
You can't blame Ukraine for wanting to become NATO's 32nd member. NATO is the cream-of-the-crop in terms of alliances. Members are protected by the U.S., French, and British nuclear arsenals, are given a U.S. security guarantee, and if hostilities with an adversarial power erupt, have the backing of the world's most powerful militaries behind them. For a country that has seen some of its most beautiful cities destroyed by Russian ordnance over the last 17 months, it's no wonder why Kyiv is fighting so hard for the upgrade.
Yet Ukraine is only one factor in the equation. The Ukrainians have the right to apply for membership, but NATO also has the right to review the application impartially, without fear or favor, based on the circumstances at the time, whether further enlargement is truly necessary for its security and with a consideration of how Russia itself might react to such a proposition.
There are perfectly legitimate reasons why the alliance has hit the brakes. The Russians have never been fond of the idea of Ukraine joining the West's preeminent security organization. This isn't a Vladimir Putin problem but rather a Russia problem. Great powers don't appreciate what they interpret to be hostile military alliances moving closer to their borders, and Russian presidents dating back to Boris Yeltsin are no exception. The fact that NATO has no intention of attacking Russian territory, as Western policymakers so frequently point out, is little comfort to a country that has been invaded multiple times throughout its history and believes it's entitled to a sphere of influence.
Noble American statesmen don't buy Russia's arguments, but they at least understood them. George Kennan, the architect of the U.S. containment policy against the Soviet Union, predicted in the late 1990s that Russia would inevitably have a bad reaction to NATO's eastern expansion. When he was the U.S. ambassador in Moscow during the George W. Bush administration, CIA Director William Burns observed that the possibility of Ukraine and Georgia joining NATO was strongly opposed across the entire Russian political spectrum, from liberals and communists to nationalists and centrists. "Ukraine and Georgia's NATO aspirations not only touch a raw nerve in Russia, they engender serious concerns about the consequences for stability in the region," Burns wrote in a 2008 diplomatic cable.
Just because Russia opposes a certain policy doesn't mean the U.S. and NATO should automatically scotch it. Washington has the prerogative to do what is in its own national interest. Even so, U.S. policymakers would be irresponsible if they buried their heads in the sand and assumed their policy choices don't have an impact on the external environment.
Those who support Ukraine's NATO accession argue that it would send a message to Putin that his ghastly actions have consequences, bolster Europe's security, and provide Kyiv with concrete deterrent against more Russian aggression in the future. Yet all of these claims unravel after basic scrutiny.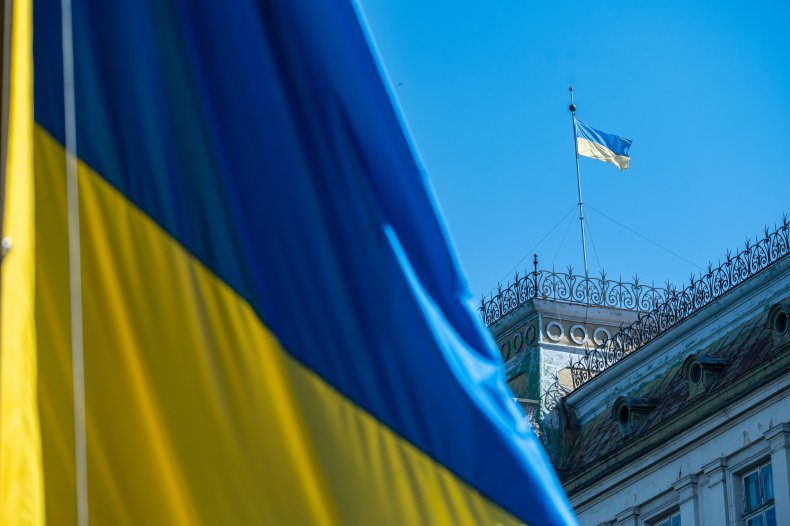 First, the West doesn't need to send Putin messages about the consequences of his policies. He's living those consequences every day his troops are fighting and dying in Ukraine. Even the most delusional Kremlin propagandist on Russian state television will find it difficult to claim that Russia's invasion has made the country stronger, wealthier, or more resilient. The Russian military has been exposed as little more than a crack-pot army, great at sending mortars and artillery shells into buildings but terrible at pretty much everything else. With the help of more than $40 billion in military aid, the Ukrainians have contained Russian troops to around a fifth of Ukrainian territory—quite an accomplishment for an army that was projected to collapse after a few days. If Putin's grand plan was regime change in Kyiv, he has already lost with flying colors.
Bringing Ukraine into NATO would scratch the itch of teaching Russia a lesson. But it would do nothing to end the war or shorten its duration—precisely the opposite. If Putin knows that Ukraine will be invited into the alliance after the war is over, he will have even more reason to fight in order to prevent that outcome.
Putin would be given two choices: lose and watch NATO's border with Russia get even longer than it is today (and courtesy of Finland's own entry into the alliance this year, the NATO-Russia border has already increased by more than 800 miles), or continue to pour men and resources into the conflict to win or at least maintain a stalemate. Any semblance of a diplomatic settlement to the war would evaporate.
The U.S. would also be burdening itself with another security commitment in Europe at a time when the center of gravity in U.S. foreign policy is now focused on Asia. Perhaps this would be necessary if Ukraine's security was an ingredient to ensuring that Europe remains whole, free, and largely at peace. But nobody can make this argument with a straight face. Russia couldn't invade or occupy a European country even if it wanted to. If that was true before the war in Ukraine began, it's even more true now, with tens of thousands of Russian troops dead, tens of thousands more wounded, and the Russian army reportedly losing half its combat power in about a year and a half. Europe can and should continue to aid Ukraine, but realistically, Europe simply doesn't need Ukraine as a formal ally to maintain its economic or military advantage over Russia.
It's past time for NATO to close the proverbial open door, not keep it open in perpetuity.
Daniel R. DePetris is a fellow at Defense Priorities and a syndicated foreign affairs columnist at the Chicago Tribune.
The views expressed in this article are the writer's own.