Drone footage appearing to show a Ukrainian ambush of Russian troops close to the bitterly contested city of Bakhmut is circulating online.
In the clip, reportedly filmed outside Klishchiivka, a village 5 miles south of the city of Bakhmut, eastern Ukraine, Russian and Ukrainian troops exchange fire along a road littered with destroyed structures.
Newsweek could not independently verify the time of filming or the location of the fighting. The Ukrainian Defense Ministry has been contacted for comment via email.
The fiercely contested Donetsk city of Bakhmut has borne the brunt of some of the war's heaviest fighting, racking up high casualty counts on both sides. It has been labeled a "meat-grinder," and has been an epicenter of fighting throughout the 17-month-long war.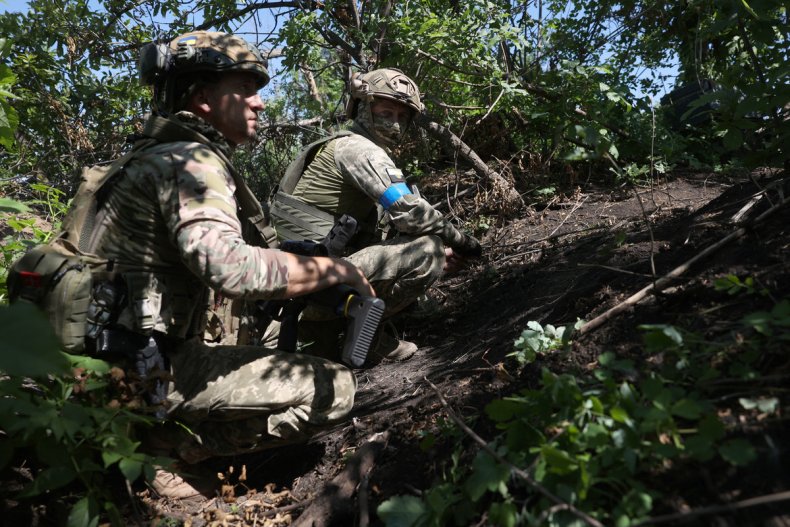 On Tuesday, Ukraine's Deputy Defense Minister, Hanna Maliar, said Russian troops in Bakhmut were sustaining eight times the number of casualties recorded for Ukrainian troops, "despite the fact that usually the side that advances loses more." Newsweek could not independently verify this figure.
Kyiv's troops "continue to advance there gradually but confidently," Maliar said in a post to social media on Monday. Ukraine reclaimed 1.5 square miles of territory around Bakhmut in the last week, she added, bringing a total figure of retaken territory in the area to 13.5 square miles.
A now-decimated city, Bakhmut's importance is more symbolic than strategic, with Kyiv and Moscow committed to controlling the emptied settlement.
On Tuesday, the General Staff of Ukraine's Armed Forces said that Kyiv's fighters were carrying out offensive operations around Bakhmut, as well as toward the occupied cities of Melitopol and Berdiansk in the southern Zaporizhzhia region.
Ukrainian forces are pushing north and south of Bakhmut, the General Staff added.
Colonel-General Oleksandr Syrskyi, the commander of Ukraine's ground forces, said on Tuesday that the situation was difficult around Bakhmut and the Donetsk city of Lyman. He added that Ukrainian forces "had to adjust our plans." Syrskyi did not elaborate on what these changes may mean for advancing Ukrainian troops or defending Russian soldiers.
Wagner Group mercenary fighters had led assaults on Bakhmut on Moscow's behalf until late May, and Russia's efforts on the city came to rely increasingly on elite paratrooper units.
In an update on Tuesday, Russia's Defense Ministry said it had repelled several Ukrainian attacks in the Donetsk region, saying 705 Ukrainian fighters had been killed over the previous day. Newsweek could not independently verify this.
Speaking on Ukrainian national television on Tuesday, Serhiy Cherevaty, a spokesperson for Ukraine's eastern grouping of forces, said 95 Russian soldiers had been killed around Bakhmut over the past day, according to remarks published by Ukrainian news outlet Ukrinform.
A further 187 had been injured, and three were taken prisoner, Cherevaty said. Two tanks, three armored personnel carriers and three infantry fighting vehicles were also destroyed in the area in the same time-frame, Cherevaty added. Newsweek could not independently verify this battlefield report, and has reached out to the Russian Defense Ministry for comment via email.
Ukraine's military previously said on Monday that its fighters had intercepted Russian troops "preparing to attack Ukrainian positions along an important route at night" around Bakhmut. Ukrainian artillery targeted the assault group, the General Staff said.