In just the last two years, the U.S Supreme Court has made life harder for millions of Americans—harder to get health care, harder to get and afford a college education, harder to protect ourselves from gun violence, and harder for LGBTQ+ Americans to live free of discrimination.
While it pursues this unrelenting assault on everyday Americans' basic freedoms, the Court's conservative supermajority routinely rules in favor of the very billionaires who put them on the bench, fly them around on private jets, and offer them secret luxury vacations and real estate deals.
It's no wonder the legitimacy of the court is now in question: The Supreme Court's activist majority is delegitimizing itself.
But the story of what's happened to our Supreme Court isn't just one of corruption. Republicans played the long game to build the political infrastructure that secured today's Supreme Court. As painful as it is to admit, Democrats must learn from their patience and long-term focus—and learn fast.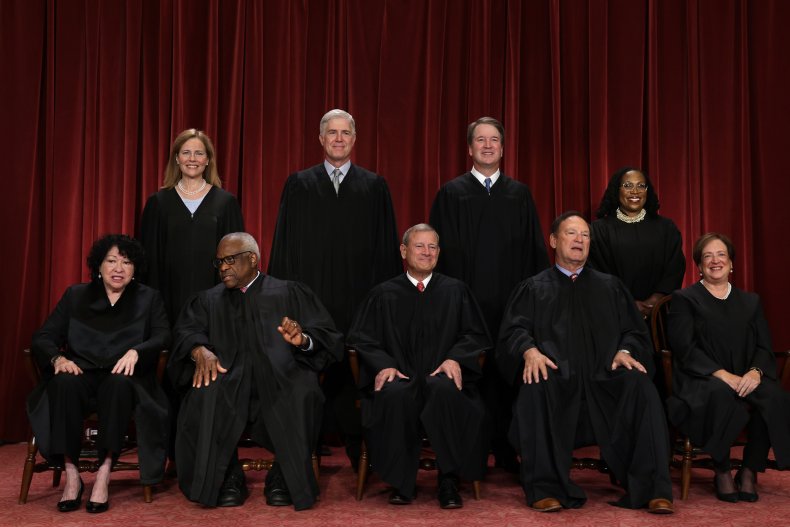 Despite Donald Trump's basic incompetence and limited attention span, he and his MAGA allies in the Senate were able to successfully install three justices handpicked by the Federalist Society, thanks to a right-wing donor fueled conservative national political infrastructure and a judicial funnel decades in the making.
Republicans were ready for this moment. Since the early 1980s, conservatives have supported Federalist Society chapters on law school campuses nationwide, building a pipeline of ultra-right wing lawyers to fill as many seats as possible on every court in the land.
In parallel, Republicans have invested heavily and strategically in controlling state legislatures. Ahead of 2010 redistricting, Republicans gained significant state-level majorities and successfully gerrymandered districts to cement their control. They have spent the past decade passing new restrictive voting laws, further eroding democratic accountability.
Even when their federal power was in question, they changed the rules of the game to win. They used their Senate majorities to lock up the Supreme Court, appointing six seats during GOP presidencies—including stealing a nomination from President Obama, and ramming through a nomination just 10 days before the 2020 election, long after voting had begun.
Year after year, conservatives have organized. They've been patient, focused, and ruthlessly effective as they worked to turn the Supreme Court—once popular with a vast majority of Americans—into what is now just an extremist legislative body, this one without elections or term limits.
Now, with the Supreme Court's ideological zealots at their disposal, these anti-democratic actors are working to advance an extreme MAGA policy agenda at the state level, safe in the knowledge that their allied justices will rarely if ever stand in the way. This conservative Court is a rubber stamp on extremism.
And let's be clear: This decades-long project hinged on Republicans' ability to win elections. Our ability to get out of this mess will, too.
A mentor of mine used to say that when I felt hopeless, I needed to expand the time horizon of my imagination. What happened this week at the Supreme Court was unthinkable 10 or 20 years ago. But they imagined it. And they organized to make it a reality.
Now it's our turn—and we won't need to rig the system like they did.
Unfortunately, we can't transform the Court in the next year. But in just 18 months, Democrats have the chance to win back a federal trifecta and gain power in key states nationwide. And if we continue channeling our outrage into action—into focused power-building through organized money and organized people alike—we will win, again and again and again, enough times so we move out of defense, and into proactively shaping the robust, inclusive democracy we've long sought.
The good news is that the work has already begun, and the numbers are on our side. I run an organization called Swing Left, founded in the aftermath of Donald Trump's election with the goal of building Democratic power to strengthen our small-d democracy. Our community of grassroots volunteers and donors have connected with millions of voters in competitive races and helped flip the House in 2018, win a trifecta in 2020, stop the "red wave" and secure crucial state-level wins in 2022, and flip the Wisconsin State Supreme Court so far this year. And, under the Biden presidency, a historically diverse slate of 136 judges—and counting—have been confirmed to seats across the country, including the confirmation of Supreme Court Justice Ketanji Brown Jackson.
We aren't doing this work alone. Our peer organizations are building pipelines for young, diverse candidates, they're training organizers and campaign teams, and they're working to push for meaningful state and federal legislation to protect our freedoms and cement our rights.
I worried that enthusiasm might wane after Donald Trump was out of office, but our volunteer community continues to take action at the same pace as 2018, channeling anxiety and outrage into constructive action that we'll need to win now, and win tomorrow.
Over the course of the next generation, we will shape an America that is more open, democratic, free, and fair. And we won't need any corrupt justices to get it done.
Yasmin Radjy is the Executive Director of Swing Left, a national organization formed in 2017 that has become one of the largest drivers of grassroots volunteers and donors to support Democrats in key competitive races up and down the ballot. Previously, she served in the Biden-Harris administration as a Senior Advisor supporting American Rescue Plan implementation at the U.S. Department of the Treasury, and as National Political Director at Planned Parenthood Action Fund.
The views expressed in this article are the writer's own.