Russia's secret services are using antennas and satellite dishes placed on the rooftop of its embassy in Moldova to spy on the NATO ally, a joint investigation has found.
Independent Russian investigative news outlet The Insider and Journal TV, a Moldavan channel reported on Monday that a total of 28 "dishes, masts, transmitting, and receiving devices" have been installed on the rooftop of the Russian embassy in Chisinau and a neighboring building where diplomats and "technical personnel" reside.
Tensions between Russia and Moldova peaked earlier this year. Moldovan President Maia Sandu alleged in February that Russia, with the help of individuals posing as anti-government protesters, was seeking to overthrow her government and stop her country from joining the European Union.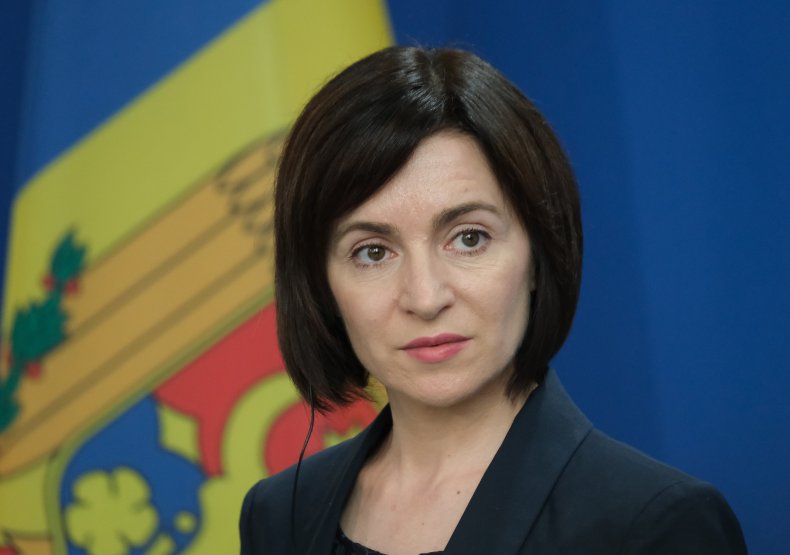 Sandu, an ally of Ukrainian President Volodymyr Zelensky, accused Russian President Vladimir Putin of wanting to use Moldova in his war against Ukraine.
Russian intelligence has displayed increased activity in Moldova since at least 2015, and the number of antennas and satellite dishes on the embassy's rooftop has been growing "year after year" the news outlets found.
Newsweek has been unable to independently verify the latest report and has contacted Russia's Foreign Ministry via email for comment.
It noted that these antennas serve multiple purposes, including establishing satellite communication, microwave relay links, boosting the signal of wireless internet routers, locating ships, aircraft, and guided missiles, intercepting signals from satellite telephone systems, intercepting radio conversations of local police, taxi drivers, air traffic controllers, data transmission, radio communication within Chisinau, and a microwave antenna used for suppressing GSM signals.
The investigation wrote that officials linked to Russia's secret services have been spotted on the rooftop in recent months, including Pavel Yakunin, who, according to the report, holds a discreet role within the embassy. As an officer in the military attaché system, he is responsible for overseeing the secret communication channels connected to the foreign military intelligence agency GRU's headquarters in Moscow and the reception center for space intelligence in Vatutinki, near Moscow, per the report.
While the reason for Yakunin's May 14 rooftop visit remains unclear, the news outlets suggest it could be connected to a recent cyber-attack on the Moldovan government that resulted in the leak of highly classified information involving high-ranking officials and certain law enforcement agencies.
In April, the Dossier Center, a Russia independent media center, published an investigation that found that the country's secret services had installed almost 200 antennas on the roofs of Russian embassies in Europe.
Do you have a tip on a world-news story that Newsweek should be covering? Do you have a question about the Russia-Ukraine war? Let us know via worldnews@newsweek.com.