The heads of Russia's regions will be allowed to create their own paramilitary companies under legislation adopted by the State Duma, the country's parliament.
The creation of such military companies, which would be financed from federal and regional budgets, will "strengthen the protection of public order and ensure public safety during the period of mobilization, during martial law, in wartime," the legislation, published on Tuesday morning, states.
It comes more than a month into Ukraine's counteroffensive, and as President Vladimir Putin's forces are reportedly facing heavy losses on the battlefield. Notorious paramilitary outfit the Wagner Group had been assisting Russian troops, particularly in the city of Bakhmut in the Donetsk region, prior to an uprising last month led by its head, Yevgeny Prigozhin, who has now been exiled to Belarus along with some of his fighters.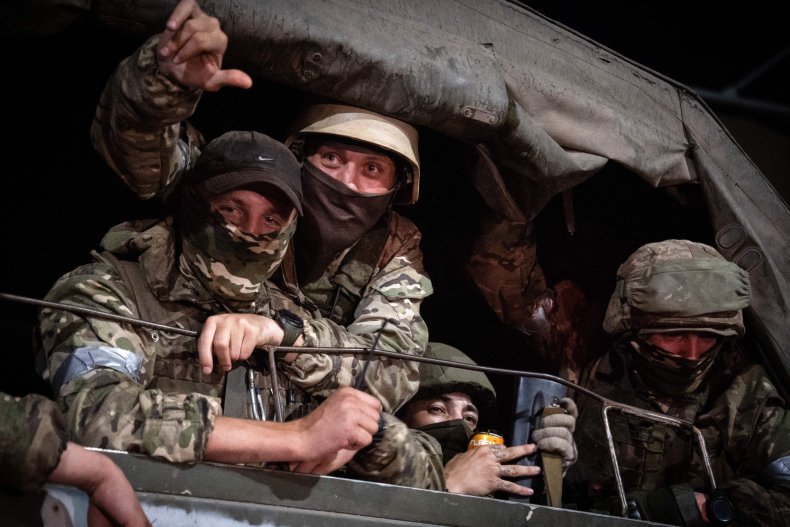 Franak Viačorka—the chief political adviser of exiled Belarusian opposition leader Sviatlana Tsikhanouskaya—told Newsweek there are now between 3,000 and 4,000 Wagner Group fighters based in Belarus, with more likely to come soon.
Regional military companies created by the heads of Russian regions will be called upon to assist Russia's Ministry of Internal Affairs, the FSB and the Russian Ministry of Defense in protecting the state border of the Russian Federation, in the fight against sabotage and reconnaissance formations of foreign states, and in the fight against illegal armed groups, the legislation states.
"Employees of enterprises have the right to stop the operation of unmanned aerial, underwater and surface vessels and vehicles, unmanned vehicles and other automated unmanned systems in order to repel an attack," it says.
After disbanding, the paramilitary companies will have to return weapons they had been given by the Russian defense ministry.
The amendment is being introduced as part of a controversial bill that will also expand the draft age in Russia from January 1, 2024.
In early July, Vyacheslav Gladkov, the governor of Russia's Belgorod region, which borders Ukraine, promised to issue weapons to the fighters of the territorial defense battalions located along the border, saying that the weapons would be transferred "within the framework of the current legislation."
At that time, legislation didn't allow weapons to be issued to defense battalions.
Gladkov made the pledge after Russian fighters serving under the Ukrainian Armed Forces crossed into the Belgorod region in June.
Newsweek has contacted Russia's foreign ministry via email for comment.
Do you have a tip on a world-news story that Newsweek should be covering? Do you have a question about the Russia-Ukraine war? Let us know via worldnews@newsweek.com.