A video of a airline passenger who blocks the aisle so that his girlfriend can go ahead when getting off the plane has gone viral on TikTok.
The clip was posted by Quincy Philbin (@quincyphilbin) and had two million views at the time of writing.
A message overlaid on the clip reads: "Whenever we're getting off a plane, he stands in the aisle and blocks everyone so I can get off in front of him. Very simple but very sweet. He's done it ever since we started dating."
The footage shows a man standing in the aisle, with other passengers behind him, while a smiling woman is seen walking down the aisle before him.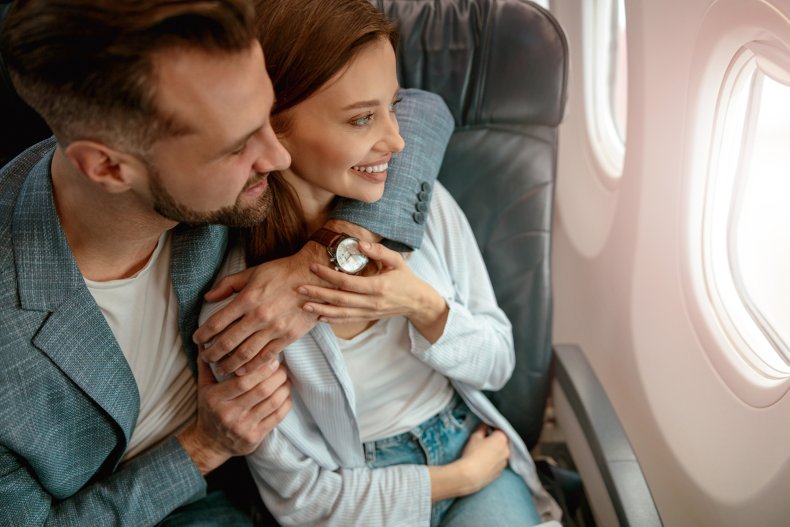 In a June 2023 survey of 1,000 plane passengers aged over 18 in the U.S. and Canada, who were asked about "how you should behave when flying," the flyers said "you are not allowed to block the aisle as people are coming in," because "80 percent of travelers understand how a chain effect works."
The survey was conducted on behalf of travel booking website Kayak, in collaboration with AYTM (Ask Your Target Market) and Brandwatch's Consumer Research Platform.
Passengers also said that "You are not allowed to rush to deplane. Because 58 percent of travelers seem to think you should stay put, even if you have a flight connection," the survey also found.
The latest incident comes as air travel steadily returns to pre-pandemic levels. Total passenger traffic globally in January this year was reported to be at 84.2 percent of January 2019 levels, according to the International Air Transport Association (IATA).
More than 2.7 million passengers were reported to have passed through a U.S. Transportation Security Administration (TSA) checkpoint on July 20, according to the latest data from the TSA.
The latest video has sparked debate among users on TikTok, with several saying that what the boyfriend did is "normal" behavior that doesn't merit any praise.
MB asked: "Isn't this normal" and cheescakepandistelle said "That's normal tho."
Sofia Hernandez asked "Is that not the minimum?," while sarita sopita noted it is "Absolutely [the] bare minimum."
Frank | Weight Loss Journey wrote: "Hmm, doesn't every guy do this? That would be so awkward if you didn't do this with your girl."
Michelle said "I think everyone does this for other people they are with," while user mai (: noted "my parents do this for me."
Others praised the boyfriend's gesture in the latest clip.
User Kayy even went far as to say: "This is the most romantic thing I've ever seen."
Aly Kima wrote: "This is the most thoughtful thing ever, it's the little stuff."
Emily Burt added: "My dad does this too! It's truly the little things."
Newsweek has contacted the original poster for comment via email and TikTok. This video has not been independently verified.
Do you have a travel-related dilemma or story to share? Let us know via life@newsweek.com and your story could be featured on Newsweek.