A former pastor who had worked across California, Pennsylvania, New Jersey, and Texas confessed to murdering an 8-year-old girl in 1975 after new evidence emerged in the cold case.
Gretchen Harrington, an 8-year-old from Marple Township, Pennsylvania, disappeared after leaving home for Bible camp on the morning of August 15, 1975, according to a statement by the Delaware County District Attorney's Office. Her skeletal remains were found two months later in Ridley Creek State Park, over seven miles from her home.
David Zandstra, now 83 years old, was a pastor at the Trinity Church Chapel Christian Reform Church in Marple, one of the churches where children of the town went for their morning exercises. He was among those tasked with transporting the children between his church and The Reformed Presbyterian Church, where Harrington's father was a pastor.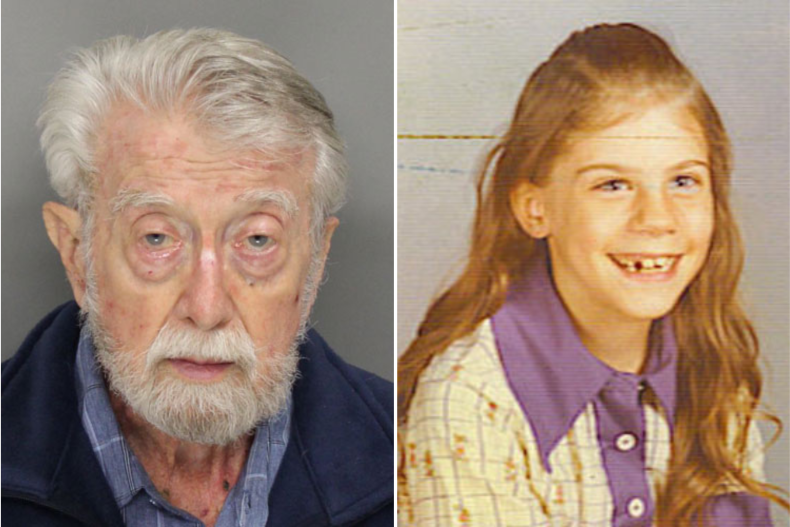 According to the Christian Reform Church's website, Zandstra was ordained in 1965 and worked in several of its churches across the country, including in Fairfield and San Diego, California, and Dallas, Texas. The New York Times and other news media have reported that Zandstra also worked in New Jersey between 1965 and 2005 when he retired.
Fairfield Christian Reformed Church issued a statement following Zandstra's arrest, saying: "We recognize that we live in a broken and sinful world where violence can happen anywhere—even within our churches and by those we hold to the highest standards."
While Zandstra was interviewed 50 years ago over Harrington's disappearance, he said he had not seen the girl and he was not investigated any further. But new testimonies linked to the case led to his confession and arrest on Monday, according to the Delaware County District Attorney's Office.
Earlier this year, police interviewed a woman who claimed to have been best friends with one of Zandstra's daughters as a child. She testified to being groped by Zandstra during a sleepover with his daughter when she was 10. She also provided authorities with her diary from 1975 where she talked of "Mr. Z." being the possible kidnapper of Harrington after he had twice tried to kidnap another girl, as reported by NBC News.
Detectives confronted Zandstra—who now lives in Georgia—with this testimony, and he confessed to having offered Harrington a ride on his green station wagon while she was on her way to Bible camp. He then brought her to a secluded spot and told her to take off her clothes. When she refused, he beat her to death. Zandstra then drove back to church.
Zandstra has been charged with criminal homicide, first, second, and third-degree murder, kidnapping of a minor, and the possession of an instrument of crime.
A law office representing Zandstra told NBC Philadelphia that it was aware of the charges but offered no comment.
"David Zandstra is a monster. He is every parent's worst nightmare," Delco District Attorney Jack Stollsteimer told journalists on Monday, as reported by NBC Philadelphia. "He killed this poor 8-year-old girl he knew and who trusted him. And, then he acted as if he was a family friend, not only during her burial and the period after that, but for years."
Harrington's family said in a statement reported by the New York Post: "It's difficult to express the emotions that we are feeling as we take one step closer to justice. Gretchen was only 8 years old when she was suddenly taken away from us on her way to church on Friday, August 15, 1975. If you met Gretchen, you were instantly her friend. She exuded kindness to all and was sweet and gentle."