A video of plane passengers in Canada rushing to "get off first" has gone viral on TikTok—and left the internet divided.
The clip, posted by Canada-based TikTok user Sarah Johnston, had over 537,000 views at the time of writing.
According to the post, the incident was captured on a WestJet flight at Calgary International Airport in the Canadian province of Alberta.
A message overlaid on the video says: "Bad plane etiquette continues. Even the pilot beside me hadn't seen this one before...people in the back just decided they would get off first..."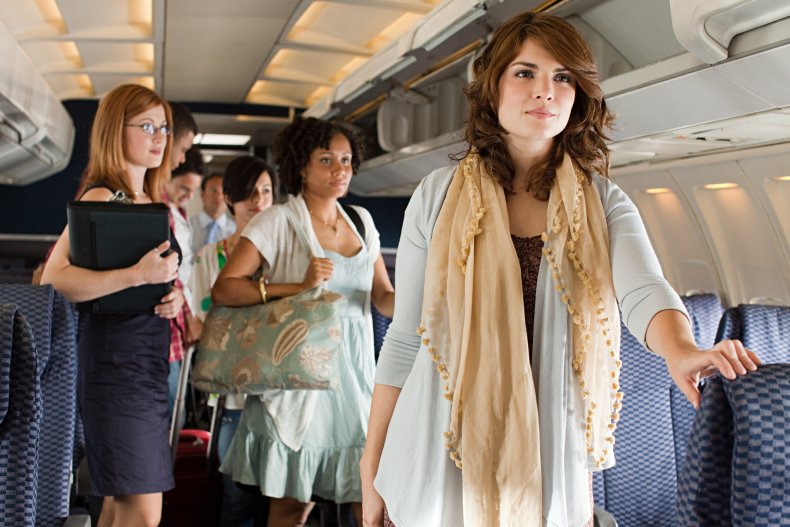 According to a June 2023 survey of 1,000 plane passengers aged 18 and over in the U.S. and Canada, who were asked about how to behave when flying, most say travelers need to "stay put" when it comes to deboarding an aircraft.
The survey said: "You are not allowed to rush to deplane. Because 58 percent of travelers seem to think you should stay put. Even if you have a flight connection."
The survey was conducted on behalf of the travel booking website Kayak, in collaboration with AYTM (Ask Your Target Market) and Brandwatch's Consumer Research Platform.
The footage in the viral clip shows several people getting up from their seats and standing in the aisle, while others remain seated. The queue of standing passengers appeared to extend toward the back of the plane.
A caption shared with the post reads: "Wait for it....have you ever? Would you?"
Several users on TikTok were understanding of the original poster's frustrations.
Stephanie Miller said: "I feel like it's gotten worse post Covid. Everyone forgot airplane etiquette," and the original poster agreed.
Pat Korley wrote: "People are so stupid and rude. Wait your turn, everybody's gonna get off one at the time."
User cathypreston22 noted: "It's madness when you land. Some people get all p**** and push by and rush to get to customs and their bags that you have to wait for."
Marigold said: "They need to make an announcement before de boarding now I guess. People have lost all social etiquette."
Others were less bothered, noting some passengers have valid reasons for getting up from their seats.
User Alicia Jones amazing wrote: "Who cares, it happens all the time."
User the cookie corral noted: "This is every single flight I've ever been on. So what's the issue?"
One68 said: "I really don't understand why people complain about people standing up. Nothing wrong with standing. Just don't cut."
Instinct wrote: "Clearly anyone that thinks people who stand up are bad people have never taken a connecting flight."
Newsweek has contacted the original poster for comment via TikTok. This post has not been independently verified.
Do you have a travel-related dilemma or story to share? Let us know via life@newsweek.com and your story could be featured on Newsweek.