A video of a passenger who had their window blind up during an overnight flight has gone viral on TikTok.
The video was shared by Canada-based TikTok user Sarah Johnston. The clip had 3 million views at the time of writing.
A caption shared with the post reads: "Wait for it...would you?"
A message overlaid on the clip says: "There is always that one person on a red eye flight..." The footage shows the darkened interior of a plane, with a bright ray of light coming through a single window with the blind up.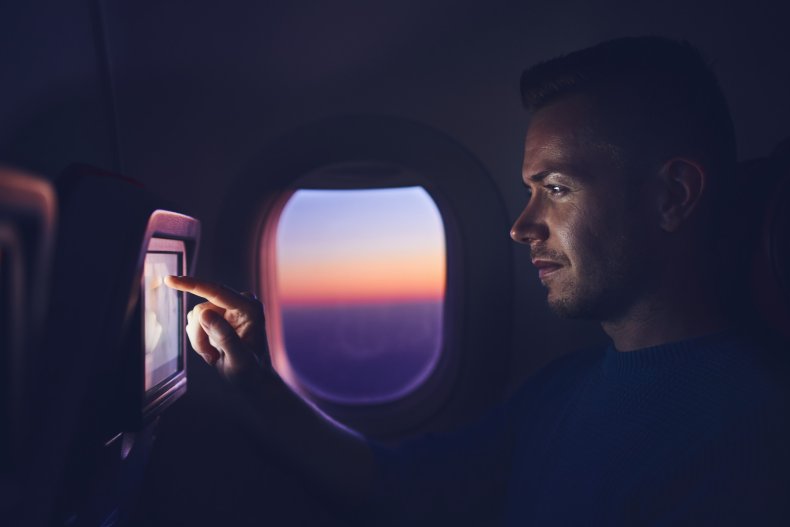 In a June 2023 survey, 1,000 plane passengers aged 18 and over in the U.S. and Canada were asked about how to behave when flying.
The survey said: "You are allowed to control the window shade if you have the window seat. Because 77 percent of travelers think window democracy is a pipe dream."
The survey was conducted on behalf of the travel booking website Kayak, in collaboration with AYTM (Ask Your Target Market) and Brandwatch's Consumer Research Platform.
According to a later comment from the poster in the latest viral clip, the flight was from Hawaii to Canada. "This flight left at 11:30 pm and arrived at 8:30 am" and "this video was taken at 3 hours from departure...," the poster said.
"I had a toddler and a 6-month-old on my lap..." the poster said in a comment.
Several TikTok users slammed the original poster, with many defending the passenger who had their window blind up.
User tyleralink asked: "Why would I not want to see parts of the world I may never see again?"
Diego Chimes noted: "They [paid] for that window!!!!"
User undulatusasperatus said: "I always get the window seat and I will never close it. that's the best part of flying."
Kayla said: "Cry all you want everyone agrees if you pay for a window seat you do it for a reason."
Mahdi said: "Paid for my window seat, and need to look outside to be sure we are not losing altitude plus the views are incredible and worth the hate I get."
Amy suggested: "Just get an eye mask! Problem solved," while Pinkcasper said, "Close your eyes it gets darker."
Newsweek has contacted the original poster for comment via TikTok and email. This video has not been independently verified.
Do you have a travel-related dilemma or story? Let us know via life@newsweek.com. We can ask experts for advice, and your story could be featured on Newsweek.