A video of a plane passenger who found a unique way to avoid having their luggage get mistaken for that of another person has gone viral on TikTok.
The clip was posted on July 12 by TikTok user @realhun and had 1.8 million views at the time of writing.
The footage shows suitcases passing by on a baggage belt, including one with a striking cover. The suitcase featured what appeared to be a large headshot image of a person's face and shoulders printed on its cover.
As drastic as the measure taken by this bag owner may seem, concerns over baggage issues are understandable.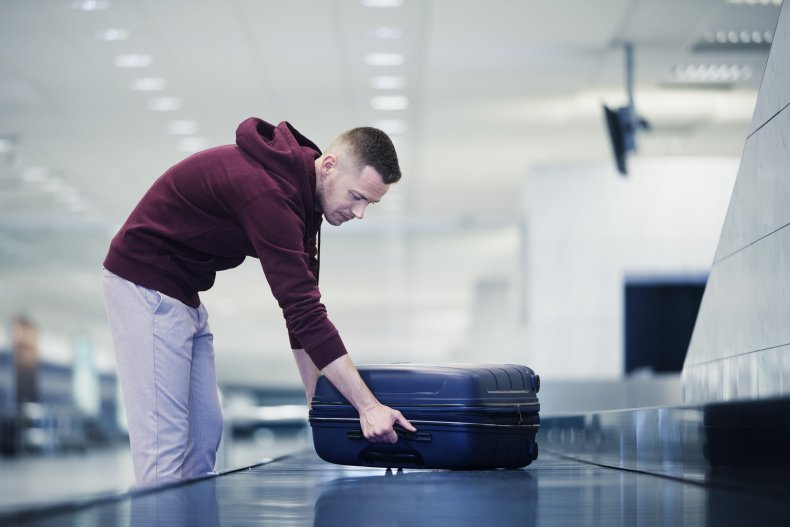 The Transportation Security Administration screened around 40.8 million checked bags at baggage screening locations in April, according to the latest Air Travel Consumer Report published by the U.S. Department of Transportation (DOT)
A total of 219,795 "mishandled bags" were reported in April on domestic flights across the various U.S. carriers surveyed in the DOT report.
The latest survey was taken among "all U.S. airlines with at least half of one percent of total domestic scheduled-service passenger revenues plus any branded codeshare partners."
The figure for "mishandled bags" represents "the number of check bags that are lost, damaged, delayed, and pilfered, as reported by or on behalf of the passenger, that were in the airline's custody for its reportable domestic non-stop scheduled passenger flights," according to the DOT.
Several TikTokers were impressed by the bag owner's solution for avoiding luggage mix-ups.
User dearly_mi94 said it was "genius," while Regita Melati noted it's "the smart way to avoid the luggage accident."
User mimidbombchel said "Love the idea," while user AINUR ATASYA agreed, saying it was a "nice idea."
User nat said: "will do this asap [as soon as possible]," while rinareginahanifah wrote: "[should] try this."
The latest incident isn't the first time a traveler has gone out of their way to avoid problems with their luggage at the airport.
Earlier in July, a video of a passenger who was "forced" to remove his shirt so it could be used as a cover for his partner's luggage also went viral on TikTok.
A message overlaid on the video, which was captured at an airport in San Diego, read: "When you're forced to check in your new Béis bag carry-on and you decide your boyfriend can buy a new shirt."
The clip showed a beige-colored suitcase landing on a baggage belt. The luggage arrived wrapped in what appeared to be a black printed T-shirt.
Newsweek has contacted the original poster of the latest viral video for comment via TikTok. This video has not been independently verified.
Do you have a travel-related story or dilemma to share? Let us know via life@newsweek.com and your story could be featured on Newsweek.