While it is not currently suspected to be developing nuclear weapons, Saudi Arabia is considered a proliferation risk due to its rhetoric about nuclear development, uranium stockpiles, and lack of international nuclear inspections. The government said it plans to develop its own uranium enrichment capability using domestically mined ore to fuel nuclear power stations, which has raised concerns it could use this as the basis for a weapons program.
Saudi Arabia acquiring nuclear weapons would be dangerous and illegal. Saudi Arabia can and should take technical steps to mitigate this risk, including increasing access for international nuclear inspectors. But to put definitively to rest any doubts about its nuclear intentions, Saudi Arabia should join the Treaty on the Prohibition of Nuclear Weapons (TPNW) without delay, thereby forswearing all nuclear weapons activities, including development, use, and threat of use.
With the risk that nuclear weapons could be used at an all-time high, following Russia's threats to use nuclear weapons in Ukraine and the escalation of nuclear tensions on the Korean peninsula, all efforts must be made to prevent further proliferation, which only increases the risk of nuclear use.
Nuclear weapons have uniquely horrific effects. They are weapons of mass destruction that kill innocent civilians on a mass scale, burning bodies, leaving eyeballs hanging from their sockets, and scarring descendants of survivors for generations with radiation-caused diseases and psychological trauma. A 300 kiloton nuclear weapon (a common-sized nuclear weapon across arsenals) dropped on Riyadh would kill nearly 500,000 people immediately people immediately, instantly injuring nearly a quarter of a million more men, women and children, including causing third degree burns for everyone within 6.3 kilometers of the blast's hypocenter. There is no adequate health care response for such a tragedy, as medical professionals have warned repeatedly in the advocacy for nuclear abolition.
While Saudi Arabia, like other nuclear-armed states, would try to assure the international community that its nuclear weapons are only intended for "deterrence," and meant to keep the peace, the Russian invasion of Ukraine has demonstrated all too clearly the problems with deterrence theory. This strategic theory is based on the flawed premise that leaders of nuclear-armed nations will always act rationally and in their states' best interest, clearly communicating their intentions so their adversaries may respond accordingly. It ignores the possibility of human error, of miscalculations, or misunderstandings that have always existed and brought us to the brink of nuclear war in the past, but which are now even more likely with the increased use of artificial intelligence.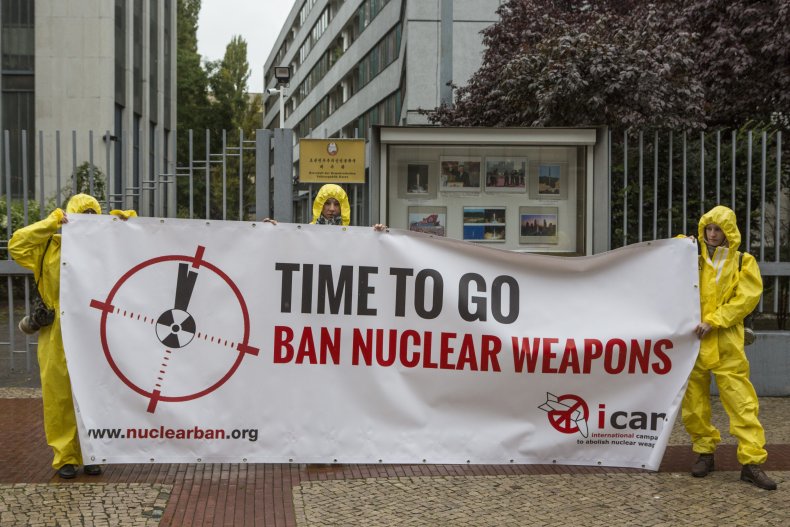 Regardless of what excuses Saudi Arabia may employ, the simple fact is that nuclear weapons are prohibited under international law. Saudi Arabia is party to the 1968 Nuclear Non-Proliferation Treaty, which bans its adherents from acquiring nuclear weapons. However, while it participated in the negotiations, Riyadh has not yet joined the 2017 Treaty on the Prohibition of Nuclear Weapons.
The TPNW is the only treaty to comprehensively ban all nuclear weapons activities, providing a pathway for their verifiable elimination, as well as instituting an international structure to assist victims of nuclear weapons use and testing, and clean up contaminated environments. It was adopted by 122 countries at the United Nations in 2017, took full legal force in 2021, and held its first major meeting in 2022, where a 50 point action plan to advance toward disarmament was adopted. Actions so far include creating a working group dedicated to nuclear disarmament verification and the establishment of an international scientific advisory group, composed of 15 leading scientific experts to advise states parties on implementation of the treaty and conduct new research.
If it were to join this landmark treaty, Riyadh could adopt stronger international safeguards, as other TPNW members have done, such as Cabo Verde, Guinea Bissau, and Sierra Leone, putting concerns to rest in the region and beyond that it could be clandestinely pursuing nuclear weapons.
The first step to achieving this is for Saudi Arabia to join the TPNW at the earliest opportunity.
Alicia Sanders-Zakre is policy and research coordinator at International Campaign to Abolish Nuclear Weapons.
The views expressed in this article are the writer's own.