Proving you can achieve your goals at any stage of life, on July 18, Everett Kalin became the oldest known person to climb Yosemite's Half Dome at 93 years of age.
In a TikTok video posted by granddaughter Sidney Kalin, Everett Kalin can be seen reaching the summit as fellow hikers cheer and clap in the background. The video has been like more than 2 million times.
"Words cannot describe how proud I am," reads the caption, "Opa, it was an honor to take on this trip with you. I hope this stands as a lesson to everyone that you are never too young or old to achieve your dreams."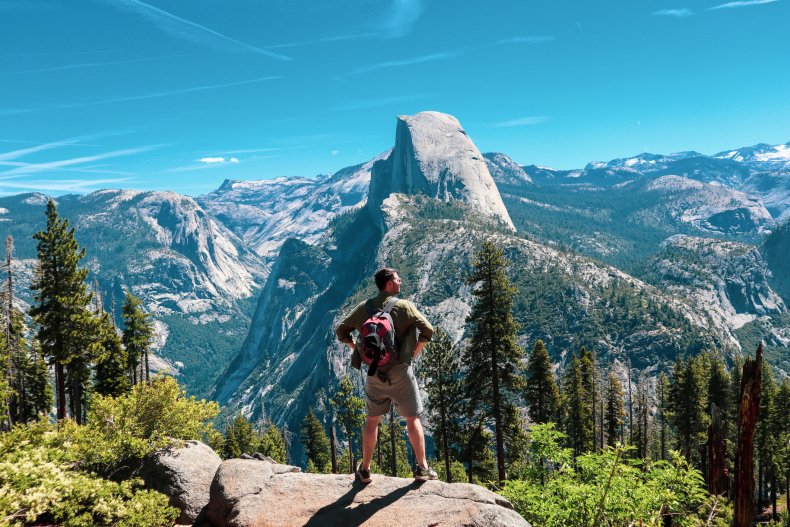 Half Dome is a quartz monzonite batholith, named for its distinctive shape, standing at nearly 5,000 feet above Yosemite Valley and 8,800 feet above sea level. "Half Dome is a Yosemite icon and a great challenge to many hikers," says the National Park Service.
"Despite an 1865 report declaring that it was 'perfectly inaccessible, being probably the only one of the prominent points about the Yosemite which never has been, and never will be, trodden by human foot,' George Anderson reached the summit in 1875, in the process laying the predecessor to today's cable route," it says.
Describing the 14- to 16-mile Half Dome hike as "not for you if you're out of shape or unprepared," the National Park Service says that despite its challenges, you are rewarded along the way by incredible views of Vernal and Nevada Falls, Liberty Cap, Half Dome and panoramic views of Yosemite Valley and High Sierra.
The journey takes an average of 10 to 12 hours. Hikers walking in the summer are recommended to start at sunrise or earlier, "and then have a non-negotiable turn-around time," suggests the National Park Service. "For instance, if you haven't reached the top of Half Dome by 3:30 pm, you will turn around.
"Check for sunrise and sunset times before you hike. Regardless, each person should carry a flashlight or headlamp with good batteries (hikers commonly struggle down the trail after dark because they don't have a flashlight). Although the trail is well marked, you should be prepared with a good topographic map and compass and know how to use them," they suggest.
Lightning strikes can be a risk while at the summit and the National Park Service does not recommend attempting the climb in a storm. On July 27, 1985, five hikers were struck by lightning, resulting in two fatalities.
Users on TikTok were inspired by the video. "Going to send this to my dad who said he's too old to have dreams. Amazing accomplishment Everett! You're an inspiration," commented one user.
"Proof that you are capable of reaching your goals no matter what age," commented another user.
"I'd love to repost please to my Instagram story to encourage people not to stop trying no matter how old they are," wrote another user.
Newsweek reached out to Sidney Kalin via TikTok for comment on Monday.
Do you have great travel stories or videos you want to share? We want to see the best ones! Send them in to life@newsweek.com and they could appear on our site.