Impeachment proceedings against President Joe Biden appear to be one step closer after Speaker of the House Kevin McCarthy suggested on Monday that a GOP probe into the president is "rising to the level of impeachment inquiry."
McCarthy, who leads the Republican majority in the House of Representatives, told Fox News' Sean Hannity that Biden had not been truthful about his involvement with his son Hunter Biden's business dealings.
His comments come after The New York Post reported that a former business partner of Hunter Biden's, Devon Archer, is expected to testify before the House Oversight Committee that Hunter Biden put his father on speakerphone during business calls on multiple occasions.
The White House has repeatedly denied that Biden had any involvement with his son's business dealings.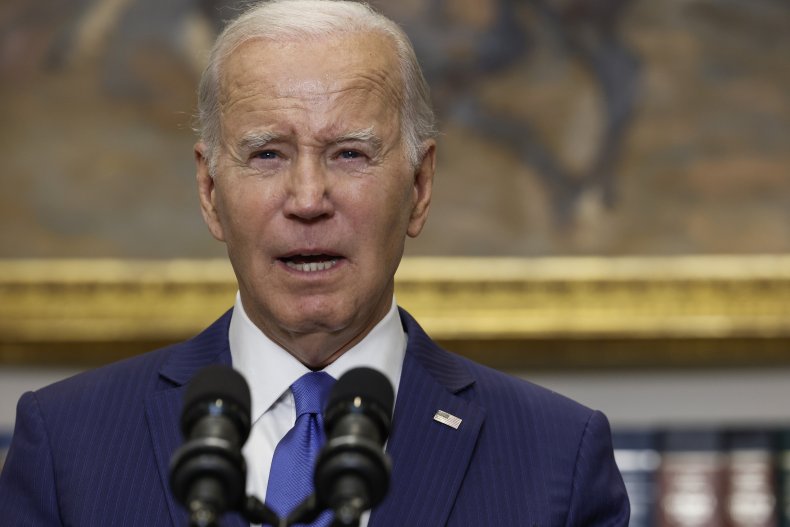 "When Biden was running for office, he told the public he has never talked about business. He said his family has never received a dollar from China, which we prove is not true," McCarthy told Hannity on Monday night.
The speaker mentioned two IRS whistleblowers who have alleged that the Department of Justice (DOJ) has given favor to the Biden family while unfairly targeting conservatives.
He also mentioned shell companies which were allegedly used to funnel foreign funds to the Biden family.
"We've only followed where the information has taken us. But Hannity, this is rising to the level of impeachment inquiry, which provides Congress the strongest power to get the rest of the knowledge and information needed," McCarthy said.
He went on: "Because this president has also used something we have not seen since Richard Nixon: Use the weaponization of government to benefit his family and deny Congress the ability to have the oversight."
Ian Sams, White House spokesperson for oversight and investigations, responded to McCarthy's comments on Twitter.
"Instead of focusing on the real issues Americans want us to address like continuing to lower inflation or create jobs, this is what the @HouseGOP wants to prioritize. Their eagerness to go after @POTUS regardless of the truth is seemingly bottomless," Sams wrote.
Newsweek has reached out to the White House via email for further comment.
White House press secretary Karine Jean-Pierre also reiterated earlier on Monday that Biden had no involvement with his son's business affairs.
"I've been asked this question a million times. The answer is not going to change," Jean-Pierre said at a press briefing. "The answer remains the same. The president was never in business with his son. I just don't have anything else to add."
Political scientists who spoke to Newsweek about a potential Biden impeachment in May argued that any move to impeach the president would be aimed at pleasing the Republican Party base.
"The hard-core, MAGA-oriented, constituency base of the Republican Party believes that the two impeachments of former president Donald Trump were partisan 'witch hunts,' without legitimate justification, and hankers for retaliation," Paul Quirk, a political scientist at the University of British Columbia in Canada, told Newsweek.
"The idea is essentially, 'the Democrats impeached Trump, so we should impeach Biden,'" he added.
The move could also carry risks for Republicans, however.
"Republicans need to tread carefully with impeachment talk, as it has a huge potential to backfire," Thomas Gift, founding director of University College London's Centre on U.S. Politics, told Newsweek.
"Defenders will say that Democrats already weaponized impeachment under Trump, and so taking on Biden is well within the bounds of the GOP House majority," he said. "But a big risk is that the maneuver would be seen for what it is: petty, overtly partisan, and a distraction from delivering on policy promises for the American people."
"All of that could enable Biden his own opportunity to take a page out of Trump's playbook and cry 'witch hunt,'" Gift added.
If House Republicans move to impeach Biden, they are likely to follow the example set by Democrats during both of Trump's impeachments.
Quirk told Newsweek that if at some point "House Republicans decide to initiate a formal impeachment investigation, it will presumably begin with closed-door proceedings—staff research, interviewing and deposing of witnesses, and miscellaneous sleuthing—in the Judiciary Committee."
"If they follow the example of the Democrats' procedures in the Trump impeachments, the committee will not hold public hearings unless and until it has developed credible evidence of one or more impeachable offenses—supporting charges that appear likely to gain virtually unanimous agreement in the party and to be taken seriously by mainstream media," he said.