"For me," tweeted conservative country singer Jason Aldean last week, his hit song "Try That in a Small Town" "refers to the feeling of a community that I had growing up, where we took care of our neighbors, regardless of differences of background or belief." Aldean's song, which was released as a single in May, came under attack earlier this month when its music video dropped.
Leftist critics have assailed Aldean's song as racist because the video uses violent images from the 2020 Black Lives Matter protests, events that the Left falsely hailed as a "mostly peaceful" continuation of the proud legacy of the civil rights movement. The video also shows images of the American flag in flames over the backdrop of a Tennessee courthouse that is frequently used as a generic small-town background for film and television productions, but that also happened to be the site of a lynching nearly a century ago.
As the song's title suggests, its lyrics include repeated assurances that people who commit acts of violence against fellow citizens and police officers in America's small towns will not get away with it. Although neither the video nor the text make any reference to any race, the Left has assailed these assurances as racist, revealing that for all its preachy rhetoric about diversity, equity, and inclusion it at least subliminally equates minorities with criminality.
Other critics have castigated Aldean's song as "pro-violence" because it includes a line questioning the government's ability to confiscate a gun that the song's narrator inherited from his grandfather. From these talking points, other commentators have built the shaky argument that Aldean is not merely a racist, but a "fascist" indulging in fantasies of "white retribution" and "vigilante justice" to rile up his fans. The American Right, in response, now champions the song and Aldean himself as patriotic and praiseworthy for defending law and order.
True to form, the Left has employed all means at its disposal to try to "cancel" the song and its creator. Within hours of the first complaints, Country Music Television removed the music video from its programming. Music services iTunes and YouTube Music, however, reported it as their number-one and number-two song, respectively, within a matter of days, with Spotify recording access by millions of users.
Regardless of how one interprets "Try That in a Small Town," its messages overwhelmingly align with American attitudes toward crime, guns, and patriotism. Like the small-town residents Aldean sings about, most Americans cite crime as a major concern. A March 2023 Gallup poll found more than 80 percent of respondents worry "a great deal" or "fair amount" about crime, up from 70 percent in 2014. Those who worry a "great deal" now comprise a majority of 54 percent.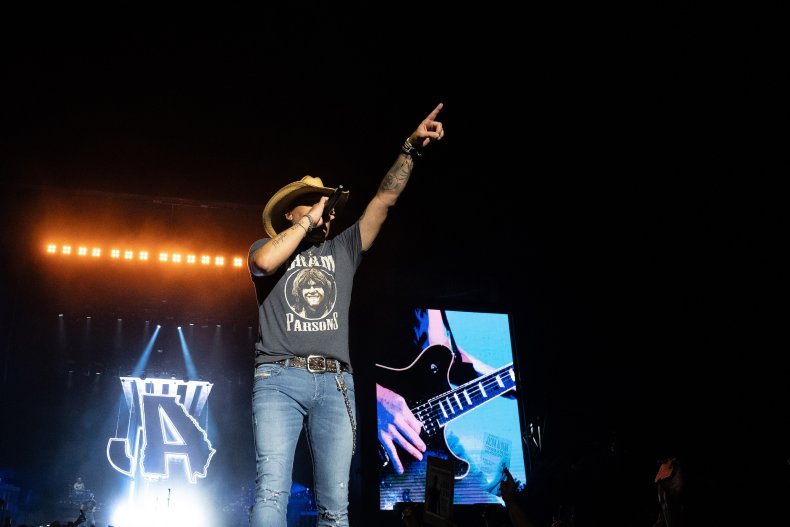 Perhaps ironically, concern about crime is less prevalent in small towns—likely because of the values Aldean's song expresses. Nationally, 58 percent of urban residents were in Gallup's "great deal" category last year, compared to 51 percent of those who live in rural areas. According to a Siena College Research Institute poll released this month, some 61 percent of New York state residents fear they will be a crime victim in the near future. That figure rises to 70 percent when the polled sample is limited to New York City. The same poll found that nearly one in six New York City residents has been a victim of physical assault or robbery in the past year, while 46 percent have witnessed violent or threatening behavior toward others during the same period. Some 41 percent of New Yorkers say they have "never been this worried about their personal safety."
These fears are justified. Since 2020, crime has skyrocketed nationwide as a result of anti-police measures and refusals to prosecute a wide range of offenses in the name of social or racial justice. In the first half of 2023, most major Democrat-controlled cities experienced rising crime rates. Earlier this month, Washington DC's city council passed emergency legislation to reduce major crimes, which have increased by 30 percent this year, including a 117 percent increase in carjackings. San Francisco's homicide rate surged 83 percent in the first quarter of 2023. In Chicago, major crimes were up 61 percent in the first three months of the year.
Aldean's song also reflects American views of gun ownership. While most Americans say they favor some gun control measures, albeit by smaller margins than in recent years, the number who favor outright bans of basic firearms—such as the grandfather's gun in Aldean's song—are vanishingly small and getting smaller. According to a 2022 Gallup poll, only 14 percent of independents favor an outright ban on handguns, down from 30 percent in 2019. Just six percent of Republicans and 40 percent of Democrats agree. Even in New York City, which boasts some of the most restrictive gun control laws in the country and votes more than 85 percent Democratic, the Siena poll found that 17 percent of residents reported purchasing a firearm for self-defense in the past year.
The flag, too, continues to command American loyalties. A 2022 YouGov poll reported that 70 percent of Americans consider flying the national flag to be patriotic, while 76 percent consider themselves to be "very" or "somewhat" patriotic, with the "verys" at 45 percent.
To quote another country anthem embraced by the American Right, Lee Greenwood's "God Bless the USA," a July 2023 study found that 89 percent of Americans are "extremely," "very," or "moderately" "proud to be an American," with the "extremelys" making up the largest group at 39 percent. Jason Aldean is one of them, and declared so to raucous cheers at a concert performance in Ohio last Friday. He should ignore the small minority of loud but bitter malcontents who disagree and keep singing his song.
Paul du Quenoy is President of the Palm Beach Freedom Institute.
The views expressed in this article are the writer's own.