J. Robert Oppenheimer was one of the world's most famous theoretical physicists and the credited father of the atomic bomb. He was also Jewish, born to two Jewish parents. His mother, Ella, was an artist from New York; his father, Julius, emigrated as a teen from Germany to the United States in the late 1800's, fleeing the rampant antisemitism pervading Europe. Julius was penniless when arriving stateside, but soon grew to prominence in the textile industry. Like many Jewish immigrants, survival mode meant assimilation into mainstream American life. To wit, Oppenheimer's adolescence consisted of prep schools and French impressionist paintings and a tony apartment address on Riverside Drive.
Oppenheimer was raised a secular Jew, and much has been made of the strain of internalized shame and self-hatred that ran throughout the course of the scientist's life. Oppenheimer was noted for denying his Jewishness, despite the fact (or maybe because of it) that he encountered antisemitism at almost every turn, facing discrimination at Harvard, the University of Göttingen and U.C. Berkeley, where after lobbying faculty head Raymond Birge to hire fellow scientist Robert Serber, he was told "one Jew in the department was enough."
But in "Oppenheimer," Christopher Nolan's hotly-anticipated biopic opening today, one Jew was one too many. The titular character is played by Irish actor Cillian Murphy, who was raised Catholic. And this was no accident. In an interview with the New York Times, Nolan admitted he wrote the film with Murphy specifically in mind. In other words, no Jewish actors were considered for the role.
When it comes to casting, should it matter that Oppenheimer was a non-observant Jew, a Jew who essentially denounced his Jewish identity? It should not. Judaism is an ethnoreligion. We are a religion, we are a people, we are an ethnicity. Jews originated in the Levant. There are varying degrees of religious observance. But when it comes to one's ethnic identity, there is no litmus test for how Jewish one is.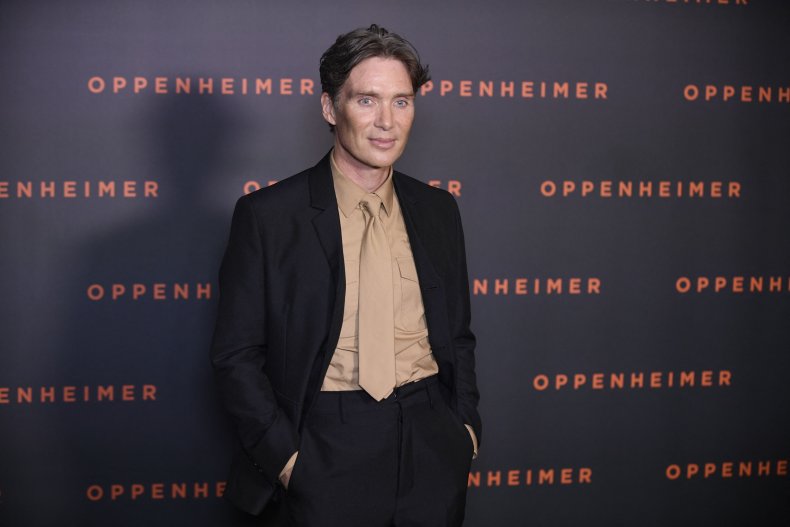 Oppenheimer may not have ascribed to Jewish traditions, he may not have attended synagogue, he may have eaten ham sandwiches. But ethnically and genetically, he was very much still a Jew. One could even argue that it's because Oppenheimer was in a perpetual state of identity crisis, constantly wrestling with the fact of his Jewishness, that a far more authentic representation of him onscreen can only be achieved through casting a Jewish actor in the role. But this does not seem to have occurred to Nolan.
But this is par for the course in today's entertainment industry. And the casting of Murphy as Oppenheimer is yet another glaring example of how the collective Hollywood push for diversity, equity and inclusion when it comes to on-screen representation has almost entirely eluded the Jewish community. From "The Marvelous Mrs Maisel," in which non-Jewish actor Rachel Brosnahan played Jewish comedian Miriam for the series' five-season run (and won an Emmy for doing so) to Bradley Cooper's upcoming Leonard Bernstein biopic, which Cooper directs and in which he stars as the famed Jewish composer (with the aid of a prosthetic nose), Jews are rarely cast in the roles of prominent Jewish characters.
At a time wherein rates of antisemitism continue to climb—per the FBI, Jews are the target of more hate crimes in America than any other ethnoreligious group—Nolan's casting choice sends a very clear signal that, to filch a phrase from best-selling British author and comedian David Baddiel, "Jews do not count."
This does not hold true for most other ethnic and racial communities. Rightly so, the entertainment industry has made a concerted effort to cast Asian actors as Asian characters, to cast Black actors in the roles of Black characters and Latino actors as Latino characters. Hollywood has worked to increase gender equity and the representation of differently-abled individuals in film and TV. The Academy for Motion Picture Arts and Sciences has set forth rules for Oscar best picture eligibility that demand the inclusion of actors from underrepresented racial and ethnic groups. These are all necessary and crucially important systemic changes to the industry at large.
Jews are left out of that equation.
Does this mean Murphy is not a gifted actor? On the contrary—he is arguably one of today's brightest talents, earning a 2023 BAFTA nominee for his role on Netflix's gangster drama, "Peaky Blinders" and starring in such critical hits as "28 Days Later" and Nolan's 2010 sci-fi action film "Inception." He can, and does, play any number of meaty, enticing, thought-provoking roles. But he is not Jewish. And no costume, hat or accent changes that truth.
If Hollywood continues its robust commitment to diversity—and it absolutely should—then it needs to acknowledge Jewish people are an ethnicity. We are a people, we are a nationality, with a lineage that can be traced back to a very specific geographic location in the world. And, as is the case with every other ethnic minority portrayed in TV and film, Jews deserve real, nuanced, accurate representation. Otherwise, Hollywood's myriad endeavors in the diversity equity and inclusion space is a mere exercise in hypocrisy.
Ultimately, casting non-Jews in the roles of Jews reduces the relatability and believability of a performance, not only for Jewish audiences but for anybody who values the importance of authenticity in cinema.
Malina Saval is the Editor in Chief of Pasadena Magazine and the author of The Secret Lives of Boys: Inside the Raw, Emotional World of Male Teens. She spent 10 years as Features Editor at Variety, winning several National Arts & Entertainment Journalism awards for her work covering Jewish representation in Hollywood.
The views expressed in this article are the writer's own.