Megan Rapinoe and Sue Bird have become one of sport's biggest power couples since their relationship began after they met at the 2016 Summer Olympics in Rio de Janeiro.
Soccer player Rapinoe, who has said she will be retiring after the 2023 season, and Bird, who has already retired from playing in the WNBA after spending her entire career with the Seattle Storm, announced their engagement in October 2020.
While there are no wedding plans yet, now Rapinoe is leaving professional sport, bells could be ringing soon.
The pair crossed paths for the first time in 2016 during press commitments for NBC at the Rio Olympics and there was an instant attraction.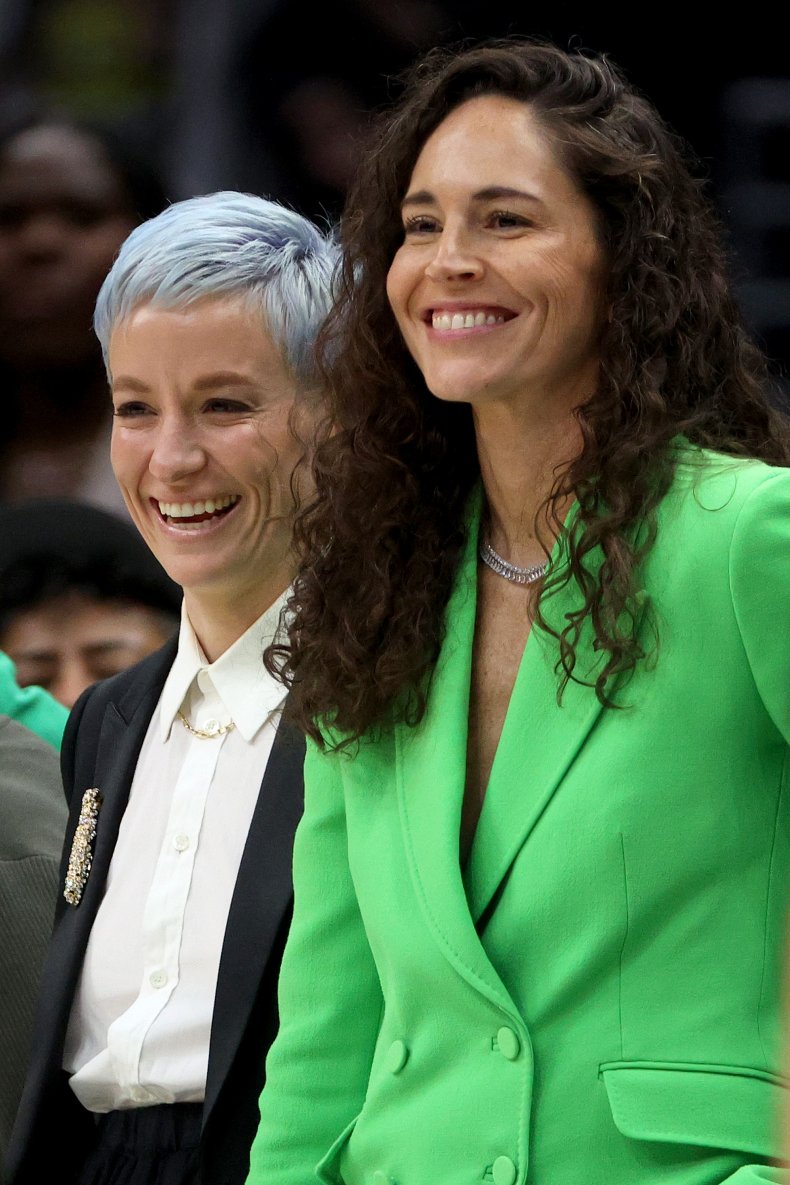 Rapinoe and Bird told NBC Sports about when they first met.
"She was in her basketball uniform and she had her hair down," Rapinoe said.
Bird added: "We kinda crossed and she was like, 'Oh, hey! Ready for your game?' I was like, 'ha-ha…funny.'"
Rapinoe admitted that she made "such a bad impression," with her first line to Bird.
While the soccer star came out as gay in 2012, Bird did not follow suit until 2017, when the couple revealed that they were dating.
Speaking to ESPNW in that year, Bird said: "I'm gay. Megan's my girlfriend…these aren't secrets to people who know me.
"I don't feel like I've not lived my life. I think people have this assumption that if you're not talking about it, you must be hiding it, like it's this secret. That was never the case for me."
Bird added: "It's happening when it's happening because that's what feels right. So even though I understand there are people who think I should have done it sooner, it wasn't right for me at the time. I have to be true to that. It's my journey."
A couple of years into their relationship, Bird issued a very public defense of Rapinoe after she made a stance against then-President Donald Trump. The soccer star was speaking about the possibility of the USWNT being asked to come to the White House should they win the Women's World Cup.
Rapinoe had announced in a video that she would not go "to the f****** White House" which led Trump to respond with a number of tweets against her.
Bird wrote in The Players' Tribune about Rapinoe's stance: "Megan, man…I'll tell you what. You just cannot shake that girl. She's going to do her thing, at her own damn speed, to her own damn rhythm, and she's going to apologize to exactly NO ONE for it."
Later in 2019, Rapinoe shared her thoughts about Bird with People, telling the magazine how proud she was to be with her.
She said at the time: "We are huge fans of each other. I have become, like, a Seattle Storm number one superfan, of course.
"I think it is just the understanding of what we have to go through and the appreciation of, you know, each other's skills and lives is really special. And in the same sense, we are just normal to each other. Which is really nice. Like, neither of us are like, 'Oh, wow you are the best person that has ever played basketball.' Which she is!"
On October 30, 2020, Rapinoe and Bird announced their engagement in an Instagram post, which had no caption, just a photo of the soccer star down on one knee in front of Bird.
With both being busy sports stars, they admitted that there was no rush to tie the knot and that they were happy to stay engaged for as long as it takes.
Bird told People: "It's been great to be engaged but we actually haven't planned or talked about much of anything."
The COVID-19 pandemic then brought any wedding planning to a standstill and it doesn't seem to have picked up any momentum since then.
The only time they have seemingly spoken about getting married was in March 2022, when Bird told People: "Ironically, this is, like I said, honestly, stars aligning seems to be the theme. We're kind of toying with having a wedding in Mexico maybe. So there'll definitely be Coronas on deck. I can count on that for sure."
When Bird officially retired from the WNBA in September 2022, Rapinoe was quick to honor her partner with a tribute on Instagram.
Rapinoe shared a photo of Bird as a youngster along with the caption: "The Greatest to ever do it. I am so proud of you❤️."
She then doubled down on her tribute during Bird's jersey retirement ceremony on June 11, 2023, telling her: "There's no one like you."
Rapinoe added: "You're everything on the court that everybody could ever wish to be. And I think the thing that everybody knows in here, and certainly the people closest to you, is you're so much better off of it. You've given everybody this beacon for all these years, how to be, how to carry yourself, how to treat people.
"I love you so much. Congratulations on…arguably the best career that anyone has ever had in the history of any sport, ever."
The couple will be looking forward to spending more time together from the end of this year after Rapinoe announced her retirement on July 8.
Posting on Instagram, the soccer star wrote: "It is with a deep sense of peace and gratitude that I have decided this will be my final season playing this beautiful game.
"I never could have imagined the ways in which soccer would shape and change my life forever, but by the look on this little girl's face, I think she knew all along."
Bird celebrated the announcement and wrote in the comments on the post: "Congrats, baby!! That little girl is going to continue to do so much good in this world (but she sure did kill it on the field 🤩). I love you."
Do you have a tip on a sports story that Newsweek should be covering? Do you have a question about Megan Rapinoe and Sue Bird? Let us know via entertainment@newsweek.com.