As campaign season gets underway and Republican primary challengers make their case to the voters, a feeling of deja vu seems to be taking hold across the country, and not just because we might be headed toward a Donald Trump-Joe Biden rematch in 2024. For me and many other working-class Americans, people without a college degree in blue-collar jobs across the country, there's already a feeling that no one who is trying to claim the mantle of leader of this great nation sees our interests as the guiding light of their campaign.
Of course, there is no shortage of candidates, Republican and Democrat, who are claiming to be the real man or woman of the people, insisting that they alone will embrace accountability, unite the country, and lead us forward to a new era of both personal and communal responsibility.
But I know I don't just speak for myself when I look at the host of candidates and think, I don't believe you.
And trust me, I want to. Politics over the last decade has offered little to ordinary Americans other than the nightmare of perpetual ideological warfare, a constant tug of war over the moral and social compass of America which has freed politicians from accountability to their constituents.
How often do we feel that our political leadership achieves meaningful progress on addressing the "dinner table" issues that most of us are concerned with? These issues are not a mystery to anyone who's not part of the American elites: How do we tame inflation? What role should America play in the war between Russia and Ukraine? How do we secure our border and create an immigration system that is efficient and safe? How do we empower all Americans and their families to achieve prosperity and dignity? How do we lower the temperature and create a more unified country at a time of so much divisive rhetoric?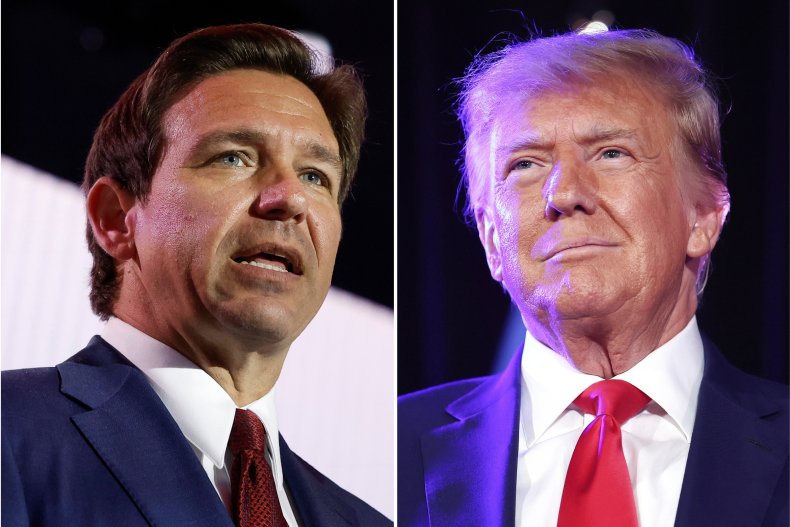 These are the issues every American is asking him or herself every day. And yet, all our politicians seem to talk about is LGBT rights on the Left and fighting wokeness on the Right.
It's not surprising that regular Americans feel nothing but fatigue at our current political climate.
Consider the two front runners of the Republican primary. In looking at another Trump candidacy, I have no doubt that Trump would pursue his agenda with the intensity that most Republicans have come to expect of him. But of all the Republican hopefuls, I find him to be the least likely to be able to succeed with a divided Congress. Setting aside the question of whether he could even defeat Biden, I think another four years of Trump would be less productive than most conservatives hope. He would continue to divide and enflame any who oppose him and continue to energize the progressive response. The pendulum of ideological conflict would swing on.
Yet his closest challenger, Florida Governor Ron DeSantis, has little more to offer than the promise of crushing "the woke Left." I'm not saying he's not capable of anything else—just that he hasn't bothered to promise us anything else. Why isn't he championing other talking points in his campaign? I'm not the only one wondering about this: A glance at the polls shows many conservatives are not responding well to his sole promise of a "conservative social crusade."
I'm not really interested in ideological victory; I'm interested in a national healing. I'm interested in rebuilding civil confidence. We need a more productive animal to stand before the plow—to pull the immense weight of leading a divided America back toward some aspect of unity. As our country battles with the divide over ideologies, an uncertain economy, and innumerable global instabilities, we need to hear more than emboldened snarling from our candidates.
In that realm, only one Republican candidate has summoned any excitement and curiosity on my part. While South Carolina Senator Tim Scott doesn't capture the airwaves in the manner that Trump and DeSantis have seemed to, he exhibits something that the two front runners do not: optimism and hope for our country at large. In what I have seen and heard from him, he is attempting to communicate a conservative vision for the country that addresses the concerns of most Americans with optimism and sobriety. Seeing a Republican campaign that champions conservative values with a spirit of hope as opposed to paranoia and outrage is a breath of fresh air—and is more likely to hold sway with crucial moderate and independent voters.
Yet conservative Americans seem too gripped by anger and fear to consider supporting someone outside of the two leading Republican candidates.
More than a continuation of the spirit of paranoia and outrage, Republicans need a man or woman of the people, one able to move on from the divisiveness that's characterized this country's politics for too long. That's what we're looking for. We just need someone to to pick up the mantle.
Skyler Adleta is an electrician in the Midwest.
The views expressed in this article are the writer's own.