You know your UPS driver. Maybe not by name, but you know them because you rely on them. You see them in your neighborhood every day, with their distinct brown package car, friendly face, and on-time service. Your UPS driver—plus hundreds of thousands of other UPS workers represented by the Teamsters—needs your support, understanding, and compassion. Because they're in a fight for their lives.
Right now, more than 340,000 UPS Teamsters are negotiating a new contract with the world's biggest delivery company. These are human beings who work long hours in extremely demanding jobs to provide for their families. They take pride in their work, with UPS drivers consistently finishing at the top when Americans choose their most liked and trusted professions.
They also sacrifice. UPS workers did not have the option to seek safe haven during the pandemic. As many Americans took advantage of work-from-home options, UPS Teamsters showed up for work without interruption. They made sure all of us, across the nation, got the goods and services we needed to survive. Toilet paper. Diapers. Groceries. Even vaccines, which UPSers delivered long before they were eligible to take them. UPS Teamsters made sure our supply chain kept running and our economy stayed afloat, sacrificing their own health to get the job done.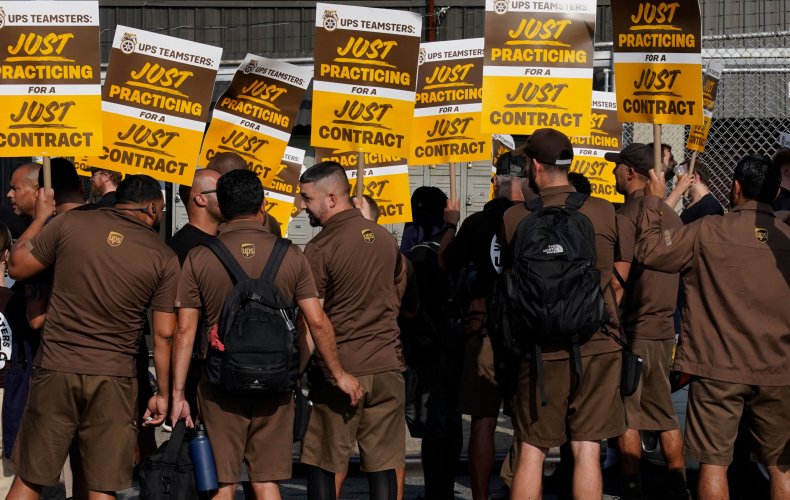 During this time, UPS experienced the most successful five-year run in its history, making record profits. Just last year, UPS made the most it ever has, pulling in more than $100 billion. Today, UPS is one of the most successful companies on Earth.
The UPS workers crisscrossing your neighborhood every day are simply asking to take part in that historic success. All UPS workers deserve a fair return on their labor. This is as true for the drivers delivering packages as it is for the workers behind the scenes making sure those trucks get loaded and unloaded.
In the Teamsters, we refer to those part-time workers inside UPS sorting facilities as unsung heroes. They are not in the public eye because, most often, they go to work at 3 a.m. These are the moms and dads who unload our packages from planes and tractor-trailers, and then reload them onto those iconic brown trucks so that UPS drivers can make their deliveries to our homes and offices. Though they aren't as visible as package car drivers, they work tough jobs that are vital to e-commerce and our way of life.
Sadly, UPS doesn't treat part-time workers with the respect they deserve. The company also does not pay them the way they deserve. You may not see them, but you should know there are more than 100,000 part-time UPS Teamsters making less than $20 per hour. In most major cities, these wages are not enough to afford decent housing or take care of a family.
The starting pay for part-timers at UPS has only gone up $7.50 in the last 41 years. Wages for these workers went from $8 an hour in 1982 to just $15.50 today. In that time, the median home price exploded from $50,000 to $450,000. College tuition and health care have skyrocketed. Almost everything has quadrupled in price. In 1982, UPS made $5 billion, only to see its earnings surpass $100 billion in 2022. Record profits at such major corporations always seem to find their way to the top, in the form of multimillion-dollar executive payouts, stock buybacks, and huge dividends for elite Wall Street shareholders.
But what might America look like if those huge corporate earnings found their way into the paychecks of regular working people? The part-time workers, the moms and dads of UPS, the friendly faces in the brown uniforms on your street? Shouldn't they be rewarded, compensated for getting us all through a worldwide catastrophe, respected for the hard labor they put in on a daily basis?
This is what UPS Teamsters are fighting for right now. They need your help. They need your empathy. Because as this fight rages, and UPS takes more steps to deny workers the fair wages they earned, UPS Teamsters may have no other option than to go out on strike Aug. 1.
Corporations constantly succeed in this country. But working people, particularly those with part-time jobs, only fall further behind. We need to look out for those around us. We need to support their cause to fight for their families and lift their earnings.
The next time you see the friendly face of a UPS driver in your neighborhood, give them a smile in return, perhaps a wave hello and, maybe, a kind word of encouragement that you understand their struggle and support their fight for a better tomorrow. Even if it means your package might be late. The delay is worth it.
Sean M. O'Brien is general president of the International Brotherhood of Teamsters.
The views expressed in this article are the writer's own.