Corporations are laying off thousands of workers. Consumer debt recently surpassed $17 trillion for the first time. Interest rates continue to rise. So what are Republican reporters, editors, bookers, producers, hosts, and campaign consultants calling publicists like myself to discuss? Hunter Biden's alleged cocaine problem!
By now, we all can write a cliff notes guide to President Joe Biden's drug-addled son: He struggled with drugs for years, and somewhere in between benders and sleeping with his dead brother's widow, he abandoned his laptop at the shop of a blind computer repairman. More recently, Hunter took a plea deal for several minor crimes, someone left coke at the White House, and President Biden has decided to deny the existence of Hunter's daughter born out of wedlock.
From a reporter's perspective, I understand why conservative media figures and politicians can't shut up about Hunter's drug history: Hunter's life is tawdry, sad, and tailor-made for web traffic. But here's some free advice for Republicans: Broadcasting Hunter's misfortunes will backfire, because Hunter is more relatable than conservatives think.
I say this as a left of center Democrat who agrees with much of the conservative media's problems with Hunter. I find it morally reprehensible for any family to deny the existence of a young relative (if Trump denied his granddaughter, Lord knows the resistance liberals wouldn't shut up about it!), and I consider social media companies' censorship of the New York Post investigation into Hunter's laptop to be among the worst corporate censorship I've seen in my lifetime.
Unfortunately, most of the conversation has revolved around Hunter's drug and porn consumption. And from a public relations standpoint, Republicans are foolish to double down on Huntergate.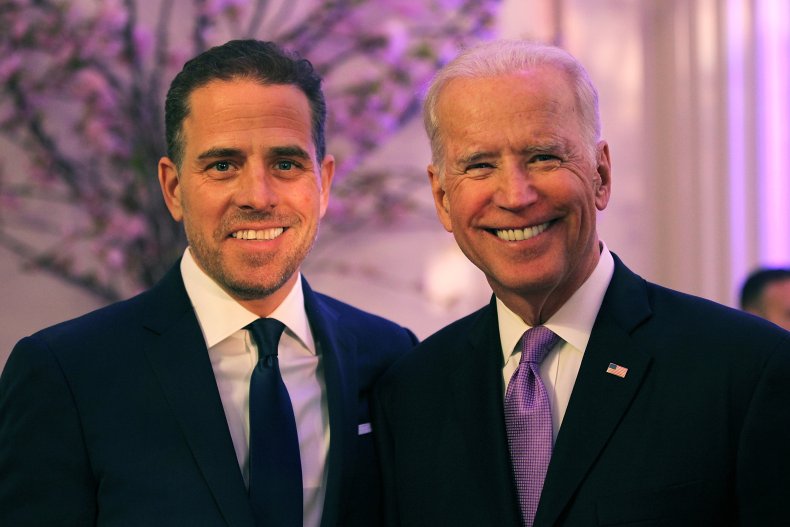 For starters, Hunter isn't the president. Joe Biden is, and he's not snorting coke or sleeping with strippers. As Americans, we're also all used to our presidents' problematic relatives. The Bush twins drank underage, President Bill Clinton's brother Roger drunk drove and accepted a watch from an alleged member of the Gambino crime family. These relatives cause trouble, but they also humanize presidents. We all have that one uncle or cousin, and we can empathize with a leader grappling with a loved one who drives them nuts.
But more importantly, Hunter's problems are especially resonant amidst the opioid crisis. As someone with relatives in small-town Iowa, I've seen how opioids have killed people and ruined lives, and I'm not alone.
Everyone I know in rural America has a friend, brother, daughter, son, or acquaintance who has lost everything because of drugs. When conservatives rail against Hunter for struggling with substances, many Americans—especially swing voters in rural states—hear them saying they don't care about drug addiction. This is a serious problem for Republicans, because opioids are a bipartisan problem. Fentanyl doesn't discriminate against Democrats or Republicans. It kills everyone.
Indeed, when I ask Midwestern friends why they flipped from Obama to Trump in 2016, they often point to the fact that Trump promised to solve the opioid crisis, a debacle that had been ignored in many elections. Of course, Trump failed to fulfill nearly all his campaign promises and opioids were chief among them.
Constantly belittling Hunter's addiction or joking about coke in the White House makes conservatives seem unempathetic about addiction. Meanwhile, President Biden is supporting his troubled son, which makes him look like a supportive dad.
Of course, this being Biden, he has predictably fumbled this public relations victory. Refusing to acknowledge his granddaughter in Arkansas makes Biden seem like a jerk. But the second he name checks his granddaughter and apologizes, the story will vanish. Americans have short attention spans, especially in this scandal-plagued news environment.
When Americans hear conservatives mocking Hunter, they hear the Republican party mocking their drug-addict relatives. If Republicans want to win a race in 2024, they might want to stop joking about Hunter and start offering serious solutions to the drug problem that riffles the Bidens and millions of other American families.
Mitchell Jackson is a publicist and founder of BCC Communications, a boutique public relations firm. His clients have appeared in the New York Times, CNN, Fox News, the Wall Street Journal, Vanity Fair, Vogue, and more. Before working in PR, he was a journalist, writing for Complex, HuffPo, Vice, W magazine, and other publications. He lives in the Miami area with his husband and three dogs.
The views expressed in this article are the writer's own.