Detractors of the Republican Party dismiss the GOP as a narrow-minded, mean-spirited, backward-looking operation that exemplifies the worst of misogyny, intolerance, and racial as well as religious bigotry. But close attention to the current competition for the presidential nomination and other recent developments send far more encouraging messages about the party's openness, its current state and long-term prospects.
Most obviously, the array of Republican challengers battling Donald Trump for GOP leadership offers an unprecedented display of diversity – with three formidable Black candidates (Senator Tim Scott of South Carolina, former Congressman Will Hurd of Texas, talk show host Larry Elder), a Latino big city mayor (Francis Suarez of Miami), and two Indian-Americans (Former UN Ambassador Niki Haley and billionaire businessman Vivek Ramaswamy). Dr. Ramaswamy also makes history as the first practicing Hindu to run a serious and well-funded campaign for the White House, making a special pitch to Evangelical voters in Iowa and elsewhere based on commonalities he emphasizes between their faith and his own.
The warm response he has received from prominent Christian leaders contradicts the common claim that the born-again Christians who play a prominent, if not dominant role in today's Republican Party, feel contemptuous toward all other faith traditions.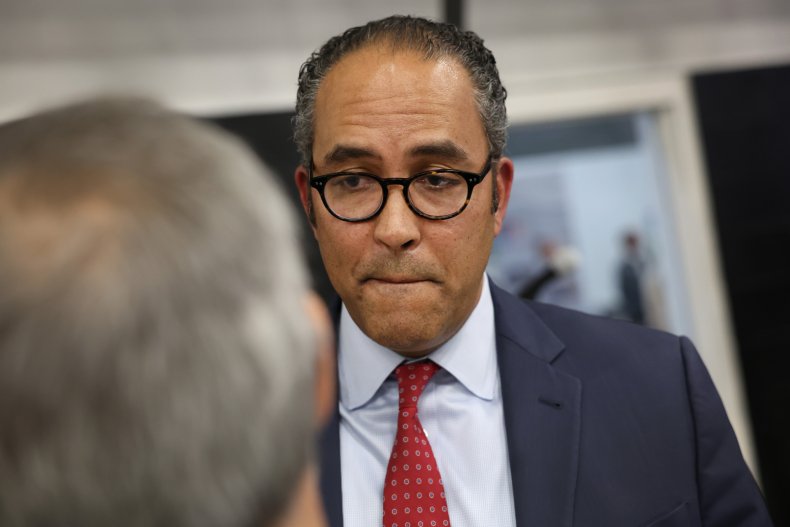 "I think he's really connecting with the audiences in Iowa," Bob Vander Plaats, an influential conservative and founder of The Family Leader, told the New York Times. "He welcomes the deeper questions" and advances the belief that we do share the same Christian values that this country was founded on." Michael Altman, a professor of religious studies at the University of Alabama, noted that for a Hindu presidential candidate, "the polytheism hurdle is the first thing that has to be addressed" but praised Dr. Ramaswamy's rejection of "wokeness" as a means to overcome stereotypes linking Hinduism "with hippies, yoga and vegetarianism." That approach can also disassociate the Republican base from instinctive, bigoted disregard for venerable foreign cultures.
In this regard, the broad acceptance of Nikki Haley, who won two decisive victories as Governor of South Carolina, also demonstrates an open-mindedness among Christian conservatives that works against the negative assumptions about her region and her party. The daughter of devout Sikh immigrants from India, she converted to Christianity as an adult and she and her husband regularly attend a United Methodist Church. But they also participate in Sikh services several times a year, and she discusses the tradition in which she was raised with profound respect and devotion.
It's true that Ramaswamy and Haley remain long-shots for the GOP presidential nomination, but it's also undeniable that they've both been welcomed inside the Republican big tent, which turns out to be far more commodious and accommodating than the negative stereotypes would suggest.
In fact, the tens of millions of born-again believers who comprise the indispensable core of the Grand Old Party, recently rallied behind a nominee for president who was deeply engaged with a controversial religious faith that many religious traditionalists decry as heretical and a betrayal of Christianity. Some of the after-the-fact analysis of Mitt Romney's close race against President Barack Obama blamed his close identification with the Mormon Church for his ultimate defeat, but those misguided assumptions ignore the exit polls that point to an entirely different conclusion. There is no indication whatsoever that the segment of the electorate defining itself as "white born-again or evangelical Christians" turned away from their party's nominee because of his personal commitment to Mormonism: Romney received a reported 79 percent of those voters, outperforming John McCain, the nominee who preceded him (and drew 73 percent of evangelical voters in 2008), as well as topping the percentage bestowed on Donald Trump, who won 77 percent of born-again ballots in 2016. In other words, the idea that Christian conservatives reserve their lop-sided support for candidates like George W. Bush who personally reflect their own religious commitments is simply not true; Bush, in fact, in his triumphant reelection run in 2004, won precisely the same percentage (79 percent) as did Mitt Romney four years later.
Beyond exit polls and voting patterns, my personal experiences in conservative Christian politics re-enforce the idea that born-again voters are far more open-minded and welcoming of outsiders than the current cliches suggest. As an observant Jew and president for many years of an Orthodox congregation, I've still felt perfectly comfortable, and respectfully welcomed, speaking to scores of conservative Christian gatherings sponsored by the Faith and Freedom Coalition, the American Conservative Union, the Christian Coalition, Focus on the Family, Hillsdale College, Grove City College, the Alliance Defending Freedom and many more organizations. At all such occasions my sometimes-inconvenient demands concerning kosher food as well as sabbath and holiday observance have been handled with the utmost kindness, consideration and respect, even to the extent of my friend Ralph Reed, founder of the Faith and Freedom Coalition, makes a special point of honoring the Judeo-Christian tradition as the deepest source of American values.
This doesn't mean that I support every quirk of current conservative thinking, or feel the impulse to join in every opportunistic initiative like the DeSantis "war on woke" and the ill-considered anti-Disney crusade. But whether or not one views the religious right as inevitable enemies or natural allies, it's a mistake to write off its members off as short-sighted or bigoted and to ignore the positive power of this element of our complicated and far too polarized political panorama.
Michael Medved hosts a daily radio talk show and is author, most recently, of God's Hand On America: Divine Providence in the Modern Era. Follow him on Twitter: @MedvedSHOW.
The views expressed in this article are the writer's own.