Fox News anchors Bret Baier and John Roberts joked that Florida Governor Ron DeSantis' presidential campaign may not make it to next week following a report that he let go of one-third of his staff.
DeSantis, whose embrace of right-wing culture war issues and handling of the COVID-19 pandemic propelled him to national prominence, has long been viewed as the Republican with the greatest chance of taking down former President Donald Trump in the 2024 Republican presidential primary. But his campaign so far has been marred by floundering polling, financial woes and criticisms over some of his conservative policies, prompting concerns.
Politico reported on Tuesday that the DeSantis campaign cut roughly a third of his staff, amounting to 38 jobs, amid a "reset" aimed at getting his bid back on the rails after weeks of troubles. The cuts will affect positions across departments, including event- planning, according to Politico.
Roberts and Baier discussed the layoffs Tuesday afternoon, with Baier describing the news as a "big sign."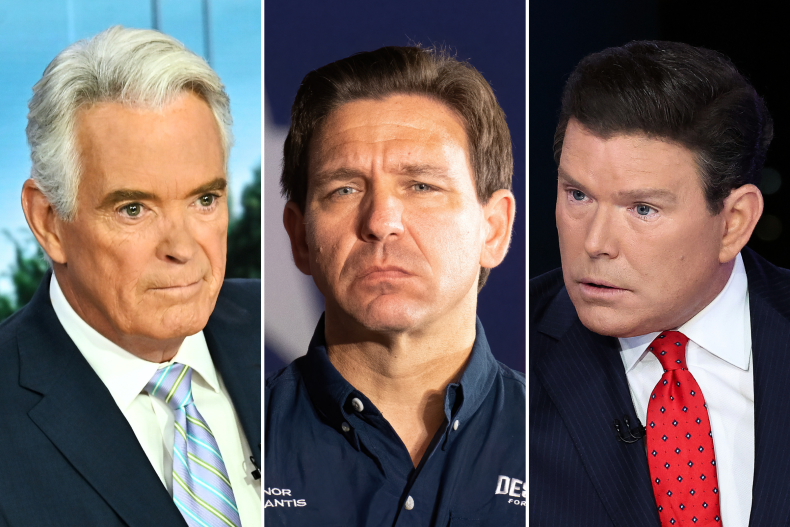 "We haven't even gotten to August, as of yet. There were real concerns by big donors, we were told, of the spending. The burn rate. They were spending a lot of money but not getting a lot of bang for their buck. He is trailing in every poll by 20, 30, sometimes 40 points," he said.
Baier said DeSantis has not "seen the traction" that he was expected to catch before entering the race, noting a "change in media strategy." He said Fox News scored an interview with DeSantis for next week, following months of requesting to sit down with the governor, prompting a joke from Roberts.
"As long as he makes it," Roberts quipped.
Newsweek reached out to the DeSantis campaign for comment via email on Tuesday.
There have been several indications that DeSantis may be struggling to build support among Republican voters, including weakening poll numbers. A Fox Business poll published on Sunday of South Carolina voters showed his support slip, with the state's former governor, Nikki Haley, overtaking him.
South Carolina is among the first states to vote in the presidential primary, and candidates who do well in the state often see success in later primary elections. The poll was conducted from July 15 to July 19, with 808 likely voters. The poll also has a 3.5 percent margin of error.
DeSantis has also seen some fundraising difficulties. Newsweek previously reported that he raised $20 million in the first six weeks of his campaign but burned through $9 million.
Still, there have been some positive signs for the governor. As many Republican voters seek an alternative candidate to Trump, DeSantis has built up some powerful endorsements in states such as Utah, where many Republicans were hesitant toward Trump despite its Republican lean, and Nevada, a critical early voting primary state.
The anti-Trump vote remains split between several candidates, and it remains unseen whether DeSantis would benefit from candidates polling in the single-digits dropping out.