A new Netflix series follows the lives of three NFL quarterbacks, including the 2022 MVP, Patrick Mahomes. But in its first episode, it seems his wife, Brittany Matthews Mahomes, gets almost as much screen time as her husband.
Quarterback follows the Kansas City Chiefs' Mahomes, the Minnesota Vikings' Kirk Cousins and the Atlanta Falcons' Marcus Mariota through the 2022 season, experiencing the highs and lows as they look to navigate a path to the Super Bowl. Mariota has since joined the Philadelphia Eagles.
Mahomes has often been hailed as being the best player in the NFL and has won a number of MVP (Most Valuable Player) awards to back up that claim, as well as a couple of Super Bowl trophies.
While he is lauded by Chiefs fans and football fans in general, his wife, Brittany Matthews Mahomes, has proved somewhat divisive, coming in for a fair amount of flak online. Nevertheless, she also has many fans that are quick to defend her.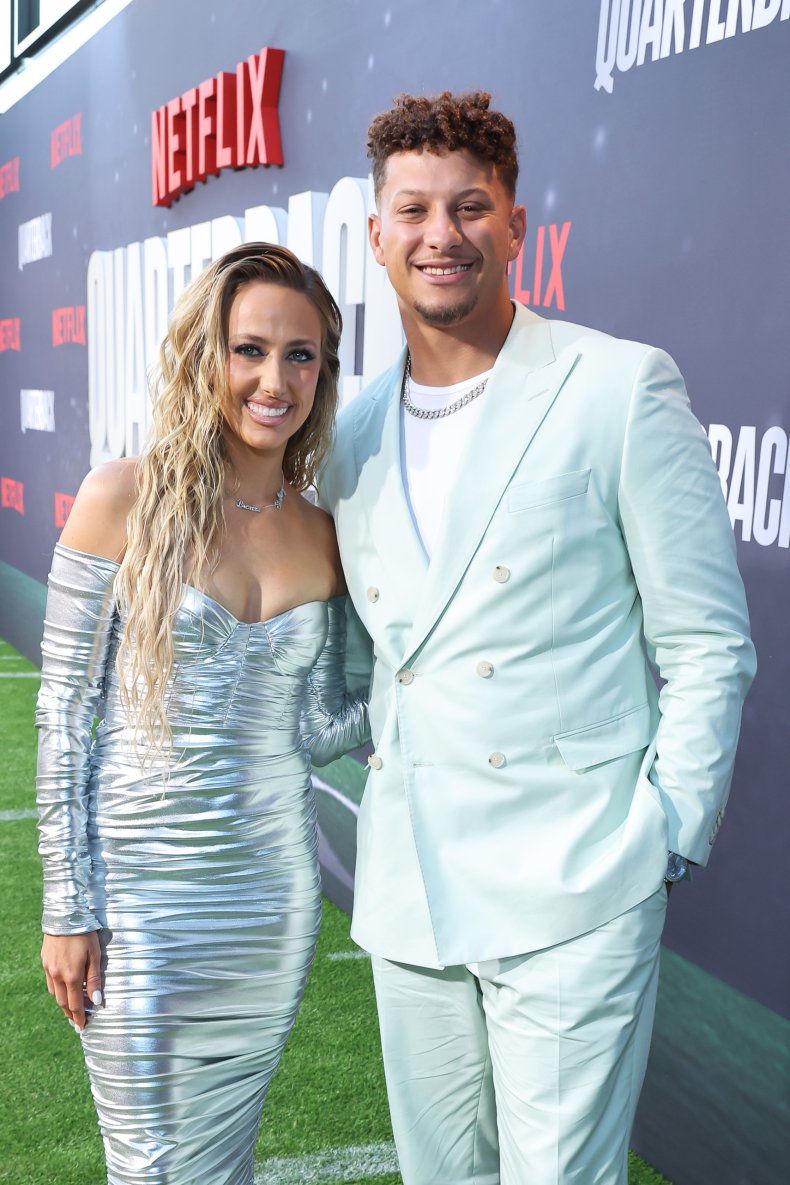 Matthews Mahomes has been hit by trolls for a number of years and as the popularity of her husband grows, so, it seems, does the abuse aimed at her on social media.
Her unwavering support for the Chiefs' star has split opinion, with some saying it is sweet while others hammer her for being over the top.
One of the biggest talking points from the first episode of Quarterback, titled "The Quest," was the involvement of Matthews Mahomes, who met her future husband when he was in 7th Grade.
She features prominently in the episode, speaking about how she met Mahomes—who she has two children with—and cheering him on from the sidelines.
In episode one, Matthews Mahomes can be seen running over to the sidelines before a game where she tells her husband: "Kick some a**! Love you!"
There follows a quick clip of Mahomes holding their daughter, Sterling, to which Matthews Mahomes commented: "You're daddy's girl today"
The Chiefs star agrees, replying: "Always."
When Mahomes goes down under a heavy tackle and seemingly twists his ankle, with coach Andy Reid looking to take him out of the game, he reacts angrily, throwing his helmet.
Up in the players' lounge, his wife cannot believe that he wants to continue playing.
Matthews Mahomes shouts out: "He thinks he's going to play a damn game? Has he lost his mind?"
Later though, there is a happier moment when she squeals, "So proud of you," as she jumps on Mahomes following the Chiefs' Super Bowl victory in 2023.
The scene changes to Mahomes' 27th birthday party and a pregnant Matthews Mahomes is looking to get the perfect picture to mark the day.
She is heard discussing getting a photo before guests arrive and tells her husband: "Yeah, that angle, like, right at your face, yeah."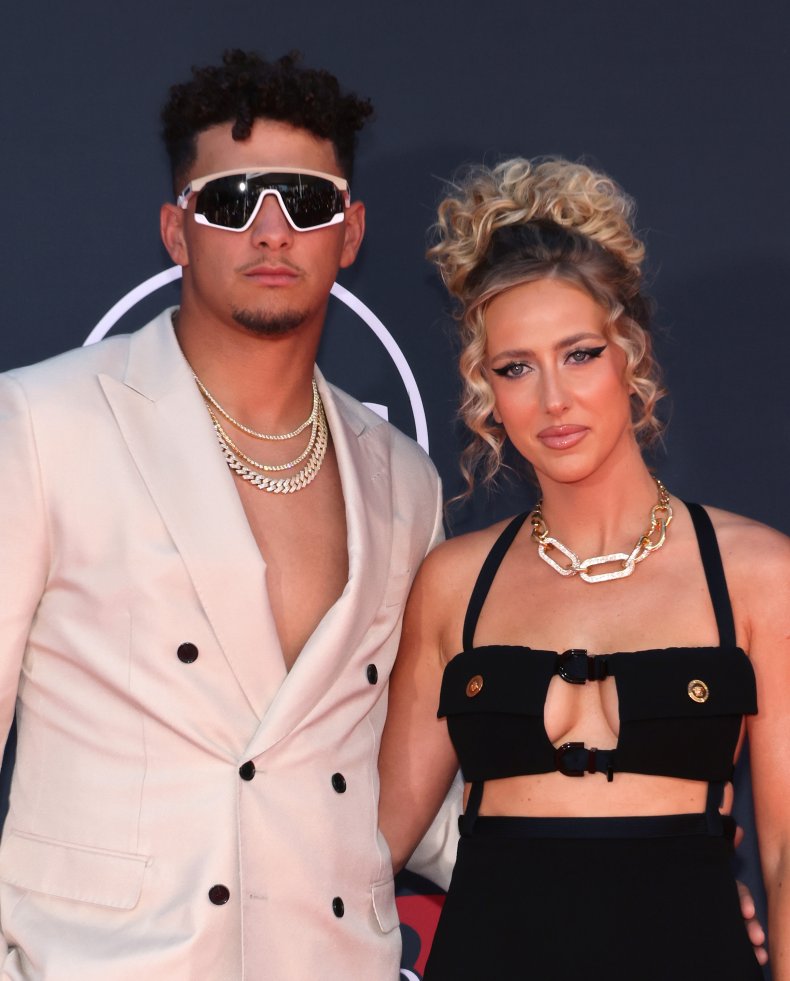 Pregnant with their second child, she asks Mahomes to "scoot over" before saying: "We weren't even in the middle."
She then adds: "Maybe I'll just put my hand on my belly."
Speaking to the camera, Matthews Mahomes tells of the struggles she has getting her husband to pose for a photo.
She says: "Oh my god, he hates taking pictures. Probably not many people realize that. But he's not a picture guy. So getting good photos with him is, yes, a struggle."
Back to photos for his birthday, Matthews Mahomes says: "OK, we have one more spot."
Patrick sighs: "No, ugh..."
Matthews Mahomes presses on all the same and tells him: "By that thing. Yeah. I'm pregnant, and we have to work on all the angles."
The documentary then turns its attentions to how the pair got together, while they were both at college, having been friends for a few years.
Speaking about the first stirrings of a relationship when Mahomes was a sophomore and Brittany was a junior, he described buying a rose as a "joke."
Matthews Mahomes recalled: "He thought it was a joke. I thought it was the cutest thing in the world. And then everyone at our lunch table started chanting, 'Kiss him, kiss him,' and made it really awkward, 'cause we were 'just friends,' so yeah, that's kind of what started it, and I thought it was cute, and then I actually..."
Matthews Mahomes was then interrupted while in full flow by a commotion in the garden. She turns to the window and asks: "Is he yelling? At the dogs... OK, we can hear you screaming at the dogs bro."
Mahomes replied: "Did you see what happened?"
Brittany said: "No"
Justifying the raised voices, Mahomes confirmed: "They were fighting dogs on the other side of the fence."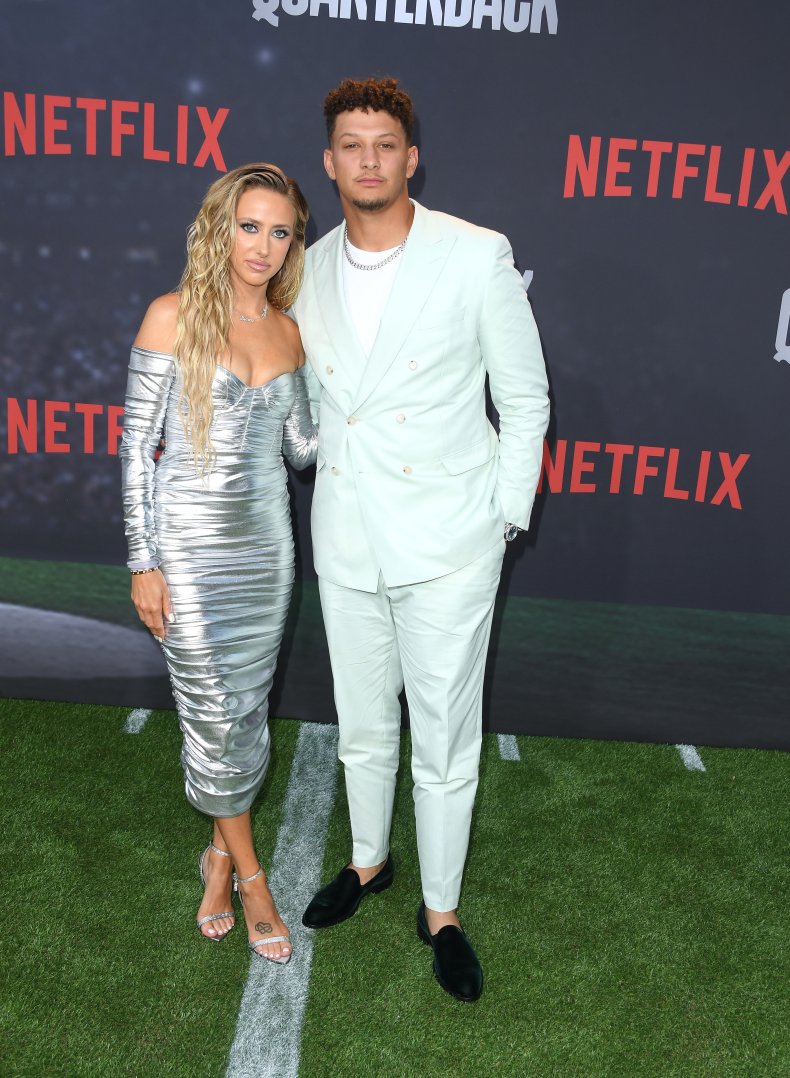 After that interlude, it was back to the story of young love and Matthews Mahomes continued: "So they were chanting, and I thought it was kind of awkward, and it was funny, and then we just kind of, I was like, 'OK, this guy is actually kind of cute. Maybe I do like him.'
"So then we just started talking, and then started dating."
It was back to the birthday celebrations and the revealing of the cakes with candles to mark the occasion. Matthews Mahomes spies another spot for a pic and tells her husband: "Hey babe, you're gonna be really mad, but there's another photo op over there. The lighting is way better."
Finally, before a game against the Las Vegas Raiders, Matthews Mahomes tells him: "Play hard, love you."
A fitting end to the first episode of a series that will no doubt be dissected by fans of the Mahomes as well as the dissenters.
Do you have a tip on a sports story that Newsweek should be covering? Do you have a question about the Mahomes? Let us know via entertainment@newsweek.com.