The recent months-long Left-wing disinformation operation against the U.S. Supreme Court, which featured numerous grossly misleading ProPublica smear pieces and even a Kafkaesque U.S. Senate Judiciary Committee hearing on "ethics reform," culminated with last week's conclusion of the 2022-2023 Court term. That culmination, almost foreordained due to the sustained "Democrat-media complex" delegitimization campaign, took the all-too-predictable form of hysterical meltdowns from the usual crowd of MSNBC talking heads, New York Times editorialists, and partisan Democratic activists nation-wide.
Yet even a cursory glance at the Court's three major 6-3 decisions to end the term last week belies the activist Left's ginned up hysteria, perhaps best embodied by our President's bizarre condemnation of the Court last week as somehow "not...normal."
In the term's twin landmark cases, the consolidated Students for Fair Admissions (SFFA) v. Harvard College and SFFA v. University of North Carolina, the Court did nothing other than harmonize Martin Luther King Jr.'s famous exhortation that all Americans be judged by their substantive merits and demerits rather than their melanin content, reinforcing the abiding colorblind dictates of the 14th Amendment's Equal Protection Clause. Thanks to our Supreme Court, "systemic racism" in higher education admissions is no more.
What's more, the Court in SFFA actually acted as a lagging indicator of public opinion, as Ilya Shapiro points out, distinguishing this ruling from the Dobbs decision of last year in a crucial way: "Americans are genuinely split on abortion, whereas they overwhelmingly oppose racial preferences in admissions," writes Shapiro. Even two-thirds of Black Americans oppose affirmative action in college admissions, per the most recent polling.
Meanwhile, in Friday's blockbuster ruling in 303 Creative LLC v. Elenis, a 6-3 Court did nothing other than extend its long line of precedents, going back at least as far as the famous World War II-era "Pledge of Allegiance" ruling in West Virginia v. Barnette, that treat broad swaths of "expressive conduct" as First Amendment-protected speech.
Once upon a time, liberals of an older variety—the mid-late 20th-century ACLU, for example—would have hailed these rulings as vindications of timeless free speech ideals. Nothing whatsoever has changed when it comes to the Court's long line of compulsory speech cases, other than the nature of the litigants involved. It is a flagrant misreading of the case to suggest, as Justice Sonia Sotomayor's dissenting opinion does, that the Court enshrined any broader "right to to discriminate." What tripe: Federal civil rights legislation and myriad state-level public-accommodation laws remain on the books.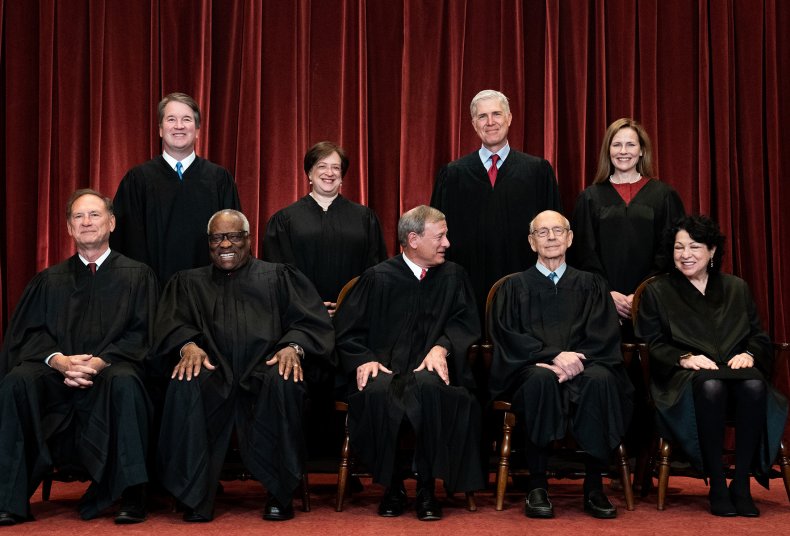 What else from the just-completed Court term is even arguably controversial, let alone so dangerous as to justify months of outrage and the ever-looming threat of court-packing? In the Biden administration student loan forgiveness case, the Court applied the most basic canons of statutory construction imaginable to reprimand the executive branch for acting unilaterally, absent Congress' approval. In Biden v. Nebraska, in other words, the Court did not look down about the what of Biden's student loan forgiveness policy; it only invalidated the who. Congress wields the power of the purse, as civics 101 instructs, and it is the branch chiefly in charge of national economic policy. As Chief Justice John Roberts' majority opinion notes, even then-House Speaker Nancy Pelosi (D-Calif.) agreed as recently as July 2021, when Speaker Pelosi noted astutely that "People think that the president of the United States has the power for debt forgiveness. He does not. He can postpone. He can delay. But he does not have that power. That has to be an act of Congress."
The term's preeminent religious liberty case, that of the devout Christian postal worker, certainly could have been contentious. But it was not: The holding was correct and unanimous. Surely, then, that case cannot rise to the level of consternation necessary for one to decry the Supreme Court as "not... normal" or "illegitimate." And surely it cannot be the redistricting cases, either; both of this term's big redistricting cases, out of Alabama and North Carolina, redounded to the Left's favor and to partisan Democratic interests.
This just-completed term, overall, had far fewer 6-3 "ideological" splits than last year's term—it just so happened that three big ones came in the term's final two days. As the Times noted over the weekend, "This term, the court's liberal justices were significantly more likely than last term to be in the majority in nonunanimous decisions." Also, the two justices who were in the majority least often? That would be the Court's two most reliable conservatives, Justices Clarence Thomas and Samuel Alito.
In reality, the U.S. Supreme Court as presently comprised is a slightly right-of-center institution. What makes it different from virtually any other leading national political or cultural institution is simple: It is not entirely dominated by Leftists.
Hence, the hysteria.
Josh Hammer is Newsweek senior editor-at-large, host of "The Josh Hammer Show," a syndicated columnist, and a research fellow with the Edmund Burke Foundation. Subscribe here for "The Josh Hammer Report," a Newsweek newsletter. Twitter: @josh_hammer.
The views expressed in this article are the writer's own.