The Simpsons' soothsaying abilities are unparalleled in the eyes of the internet as the latest example suggests the show predicted Elon Musk's decision to change Twitter's name to X.
Musk shocked social media users when he announced the business he bought in 2022 would be receiving a rebrand. Doing away with the classic blue bird, the new logo is a simple white "X" on a black background.
Surely it's a move no one could see coming? No one except perhaps The Simpsons. The show is well-known for seemingly predicting real-world events in their episodes which include Donald Trump becoming president, the uproar over Michelangelo's David's nudity, and singer Bad Bunny throwing a fan's phone in a body of water, among others.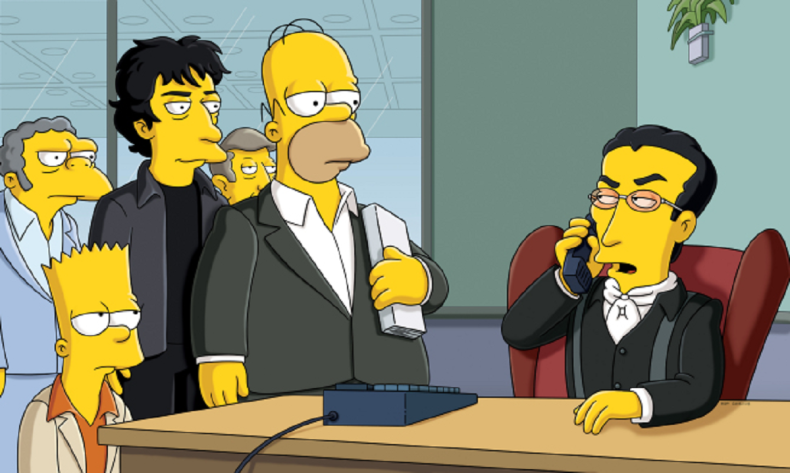 A screenshot from an episode of The Simpsons seems to show an app on Homer Simpson's phone labeled X. However, while someone was trying to trick the internet by doctoring the image, the original is actually close to the truth.
The meme Twitter (or X) account Everything Out of Context (@EverythingOOC) shared a picture with the caption: "The Simpsons can't keep getting away with it."
One of the four pinned apps at the bottom of the cartoon phone is the new X logo, which Musk only launched on Monday, July 24, 2023.
One Twitter user quickly called out the account and shared the actual screenshot that is from a 2012 episode of The Simpsons. The original image, from Season 23 Episode 21, "Ned 'N Edna's Blend Agenda" shows Homer's phone with a number of apps at the bottom. The original design for the app isn't too different from the picture that went viral, as the fake app also shows an X.
The scene that leads into the screenshot of Homer's phone shows him saying, "Just like me on Twitter" before an article is shown which implies Homer eats the stickers on apples.
The X logo at the bottom appears to be a circle with a narrow X running through it.
Over 26 million people saw the original tweet from Everything Out of Context with the fake image, with over 340,000 people liking the image. Twitter users did include a disclaimer eventually telling people that the image had been faked.
Only 77,900 people saw the new tweet shared by @trouwduc with the actual image on it though, proving The Simpsons weren't quite as accurate as originally made out.
Pointing out what many were thinking, it's "still very close," wrote @madhavop99. Others said "it is still an X" though a discussion then started as to whether the app was supposed to be a copy of the Safari web browser app. The Safari app's logo is a compass, which when viewed at an angle would look like an X.