A clip of President Joe Biden supposedly saying he "ended cancer" has been spreading on social media in the latest jab from conservatives who repeatedly point out flaws in the president's speeches.
The statement was made during a speech from the White House on Tuesday while Biden, 80, touted new efforts to push insurance companies to increase mental health care coverage. The president began his address speaking about how the COVID-19 pandemic "demonstrated ... the need for a lot more help," and said that increasing access to mental health treatment is part of his administration's "Unity Agenda."
"One of the things I'm always asked is: You know, why—why Americans have sort of lost faith for awhile on being—being able to do big things," Biden said, according to the official transcript of today's speech.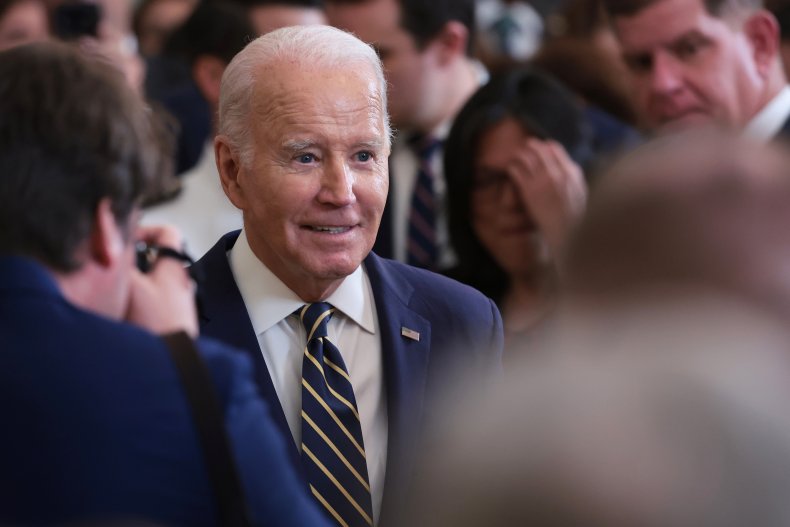 "'If you could do anything at all, Joe, what would you do?' I said, 'I'd cure cancer,'" the president continued. "And they looked at me like, 'Why cancer?' Because no one thinks we can. That's why. And we can. We can end cancer as we know it."
Conservatives, such as Colorado Representative Lauren Boebert, have spread a short clip of Biden's speech on Twitter, claiming that the president said he "ended cancer as we know it." In the nine-second video posted by Boebert, Biden appears to slur the words "can" and "end" together during his sentence, and it sounds as if he says "ended" instead.
"Joe Biden lied about curing cancer," the Republican lawmaker wrote alongside her video, which was included in a thread on Twitter claiming that the president is "a pathological liar" and "must be impeached."
Newsmax host Chris Plante reposted a clip of Biden's speech, which was posted by the Twitter account RNC Research. Plante tweeted in response, "Brain dead Joe Biden said 'we ended cancer as we know it.' Did I miss something? I don't remember this breakthrough."
Conservative watchdog group Media Research Center also posted a video of Biden's speech, writing along with the tweet, "Fact-Check: Joe Biden has not cured cancer."
Newsweek reached out to the White House via email on Tuesday night for comment.
It is not the first time that conservatives have criticized the president for misspeaking during a national address, nor is it uncommon for Biden to slip up while speaking. Earlier this month, the account RNC Research also poked fun at Biden after he botched part of his speech about NATO membership while visiting Vilnius, Lithuania.
He also mistakenly referred to Ukrainian President Volodymyr Zelensky as "Vladimir" during a speech at the NATO summit this month, although it is worth noting that "Vladimir" and "Volodymyr" are different versions of the same name. The president has been repeatedly open about struggling with a stutter while growing up.
Biden has previously promised to make tackling cancer a key part of his agenda. During both of his State of the Union addresses as president, Biden has made it a goal to cut the national cancer death rate by at least 50 percent in the next 25 years.