Democratic Representative Ro Khanna has come to the defense of Republican presidential candidate Vivek Ramaswamy after a pastor berated the entrepreneur's faith during a recent sermon.
Both Ramaswamy and Khanna were born to Indian Hindu parents who had immigrated to Pennsylvania and Ohio, respectively. Ramaswamy is a practicing Hindu.
Hank Kunneman, the senior pastor of the nondenominational Lord of Hosts Church, based in Omaha, Nebraska, referenced Ramaswamy's Hindu faith in a recent sermon warning Americans to not vote for him.
"We are in danger as a country," Kunneman said, according to a video posted by the Twitter account Right Wing Watch. "Listen to me Generation Z, listen to me millennials, those of you who are watching that like this new young guy [Ramaswamy]. If he does not serve the Lord Jesus Christ and stand primarily for Judeo-Christian principles, you will have a fight with God."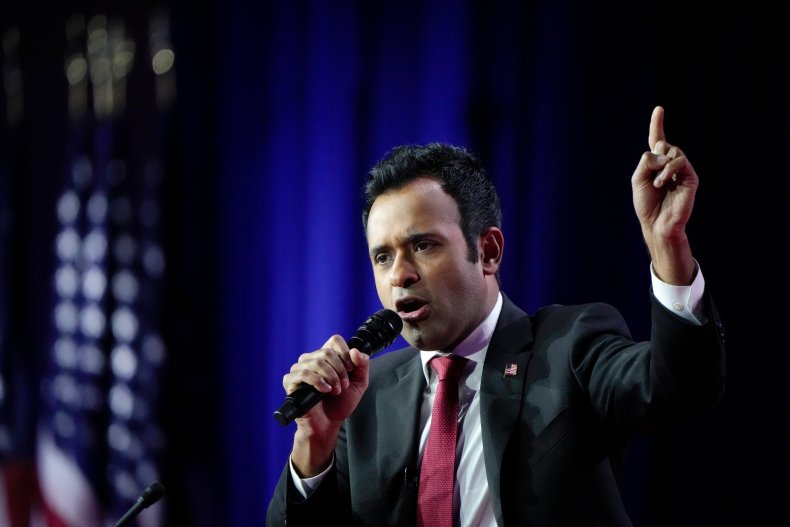 "What are we doing even entertaining the fact?" Kunneman continued while receiving applause from worshipers. "You're gonna have some dude put his hand on something other than the Bible? You're gonna let him put all of his strange gods up in the White House and we're just supposed to blink because he understands policies?"
Data from the Pew Research Center shows that Protestants and evangelicals compose the largest voter base among conservatives at 56 percent, followed by Catholics at 37 percent. Thirteen percent affiliated with Hinduism tend to lean right or vote Republican, compared to 61 percent who lean left or vote Democrat.
Newsweek reached out to Kunneman for comment via his church and personal website.
"Vivek talks about the importance of reviving God and family in our country more than anyone else in this race," Tricia McLaughlin, senior advisor and communications director for the Ramaswamy campaign, told Newsweek via email. "As a Christian and as an American, I am proud to support Vivek Ramaswamy. Whom Pastor Kunneman decides to cast his ballot for is up to him."
Khanna retweeted the video of Kunneman disparaging Ramaswamy.
"I have had spirited disagreements with @VivekGRamaswamy," Khanna tweeted. "But this is a disgusting and anti-American attack on his faith. We are a nation of many faiths, & the fact that so many Christian American Republicans are willing to support Vivek speaks to that ideal."
Newsweek reached out to Khanna via email for further comment.
As Ramaswamy continues to court conservative voters about 15 months before the 2024 election, he has fielded questions on faith and Christianity.
A profile of Ramaswamy's faith in The New York Times included the GOP candidate telling prospective voters at one campaign event that his household shares "the same Christian values that this nation was founded on." Following a separate meeting with pastors, Ramaswamy reportedly said that Jesus was "a son of God, absolutely."
He has also expressed concern about rising secularism in the United States. A 2022 Gallup survey found that Americans' belief in the traditional Christian God has decreased from 98 percent in the 1950s to 81 percent—and 68 percent among Americans under age 30. Those are the lowest percentages ever recorded.
The first point on a list on Ramaswamy's campaign website, titled "TRUTH," states that "God is real."
Kunneman, a self-proclaimed "prophet" and supporter of current Republican presidential frontrunner Donald Trump, has in the past claimed that Trump's 2020 election loss was God's way of refuting prophets on Earth.
He has previously referred to President Joe Biden as a "fake" commander-in-chief, telling his viewers and supporters that they should rethink their theologies if they believe Biden legitimately won the last election.
And in the weeks before the COVID-19 pandemic upended life in the U.S. and around the world, Kunneman said God would protect Americans because the Trump administration "sided on the right side of life."