Budweiser's new promotion with Major League Baseball (MLB) has sparked a backlash on Twitter, amid a continued PR crisis surrounding products from the beer brand's parent company, Anheuser-Busch.
On Wednesday, a post was shared on Budweiser's verified Twitter page, offering prizes to patrons who purchased the product. However, it was met with an outcry and derision from a faction of detractors who have seemingly remain steadfast in their boycott of the brand.
The controversy started at the beginning of April when transgender influencer Dylan Mulvaney unveiled a small brand partnership with Bud Light. In a video posted to Instagram on April 1, Mulvaney said the beer brand had sent her a can with her face on it to commemorate her 365 days living as a woman.
Mulvaney's partnership with Bud Light drew condemnation and boycott calls. Musicians Kid Rock, Travis Tritt and John Rich were also among those who spoke out against the brand after the collaboration. Meanwhile, some in the LGBTQ+ community slammed the company for not defending its ties with Mulvaney.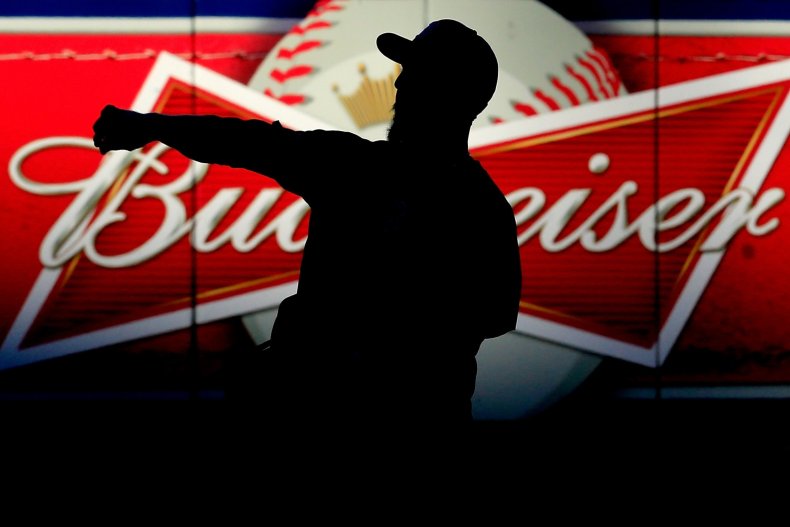 Since the calls for a boycott began almost four months ago, Bud Light has seen a drop-off in domestic sales. Revenue remains consistently below what it was at the same time in 2022. The company has also lost its crown as America's most popular beer, with Mexican rival Modelo Especial now in the top spot.
Detractors continued to take aim at Bud Light's associated brands this week, when an MLB-themed promotion was shared on Budweiser's Twitter account.
An image showed a can of Budweiser in a baseball field, alongside the caption: "Cash in on the longest home run of the week."
Accompanying a link to a promotional website, Budweiser's tweet read: "We're giving out $469 in beer money for last week's 469ft home run."
Information on the corresponding website explained that patrons hoping to scoop the offer should purchase any Budweiser beers before scanning their receipts to earn and spend points for prizes and promotions.
However, much of the reaction to the post on Twitter was decidedly tepid, with one detractor commenting: "OMG! You're trying so hard. It's over, shut it down. You're coming off really pathetic. Kinda embarrassing for what was the 'King' of beers."
"Well seeing how I'd only be able to buy your beer with it no thanks," quipped another.
"Anheuser-Bush has now resorted to bribing people to buy their product," wrote another. "Desperate times call for desperate measures it seems."
"Nobody is buying this stuff any more," one Twitter user shot back, while another responded: "Go woke, Go Broke!!"
"No amount of $ will change our minds," tweeted another detractor. "Just shutdown & call it the learning experience of a lifetime. Quit pandering."
While the post attracted a flood of negative comments, one Twitter user called the promotion "sweet," while another tweeted "cheers," alongside a hashtag of the partnership's slogan, "Buds for Homers."
"Replies to this ad are insane," wrote another Twitter user.
Noting the number of comments coming from accounts that subscribe to the social media platform's Twitter Blue, another advised their followers: "If you haven't gotten your blue check blocking fix today, here you go."
Over the past several weeks, a number of social media users have also shared photos and videos of unsold Bud Light on store shelves and at venues, in a bid to illustrate the purported success of the boycott of the beer brand.
Bud Light has implemented a variety of strategies to boost sales in recent weeks, such as offering steep rebates that made the beer free or nearly free in some areas.
In mid-June, a former Anheuser-Busch employee in the U.S. suggested in an interview with conservative political commentator Tomi Lahren that the brewing company deliberately sabotaged Bud Light in an attempt to cut costs. The interview came weeks after Lahren said "mass layoffs" were in the pipeline at Bud Light as a result of the backlash.
On June 29, Mulvaney accused Bud Light's parent company, Anheuser-Busch, of turning "a blind eye" to the transphobic attacks she endured after her collaboration with the brand.
In a TikTok post captioned "Trans people like beer too," Mulvaney accused Anheuser-Busch of not reaching out to her at the height of the criticism.
"I was waiting for the brand to reach out to me, but they never did. And for months now, I've been scared to leave my house," she said. "I have been ridiculed in public. I've been followed. And I have felt a loneliness that I wouldn't wish on anyone. If this is my experience from a very privileged perspective, know that it is much, much worse for other trans people."
While not directly naming Anheuser-Busch, Mulvaney continued: "For a company to hire a trans person and then not publicly stand by them is worse in my opinion than not hiring a trans person at all because it gives customers permission to be as transphobic and hateful as they want. And the hate doesn't end with me. It has serious and grave consequences for the rest of our community. And we're customers, too. I know a lot of trans and queer people who love beer."
"To turn a blind eye and pretend everything is OK—it just isn't an option right now," Mulvaney added. "And you might say, 'But Dylan, I don't want to get political.' Babe, supporting trans people, it shouldn't be political. There should be nothing controversial or divisive about working with us."
Newsweek has contacted representatives of Anheuser-Busch and MLB via email for comment.