Bud Light has been criticized on Twitter, after the beleaguered beer brand's Twitter account shared a post regarding the upcoming National Football League (NFL) season.
The Bud Light post in question referenced the approaching kickoff date of the next NFL season, which is set to begin in September. However, it was met with relentless derision on the platform from a faction of detractors, who continue to publicly express their aversion to the brand.
Bud Light has been under fire since the beginning of April, when transgender influencer Dylan Mulvaney unveiled a small partnership with the Anheuser-Busch brand. In a video posted to Instagram on April 1, Mulvaney said Bud Light had sent her a can with her face on it to commemorate her 365 days living as a woman.
Mulvaney's partnership with Bud Light drew condemnation and boycott calls. Musicians Kid Rock, Travis Tritt and John Rich were also among those who spoke out against the brand after the collaboration. Meanwhile, some in the LGBTQ+ community slammed the company for not defending its ties with Mulvaney.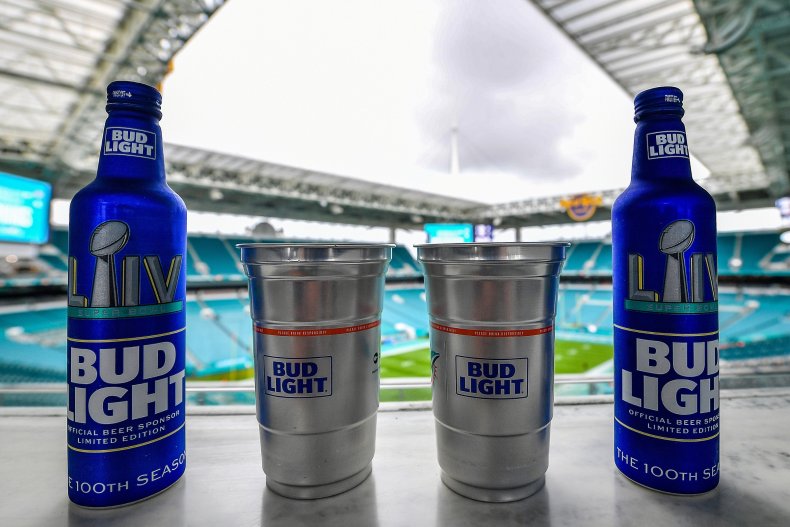 Since the calls for a boycott began almost four months ago, Bud Light has seen a drop-off in domestic sales. Revenue remains consistently below what it was at the same time in 2022. The company has also lost its crown as America's most-popular beer, with Mexican rival Modelo Especial now in the U.S. top spot.
Newsweek has contacted representatives of Anheuser-Busch via email for comment.
With Anheuser-Busch brands slowly making their way back to posting on social media, Bud Light shared just a few words about the upcoming NFL season. "Only 8 Sundays til @NFL but who's counting..." read the tweet in question.
The post was met with a wave of backlash, as a number of Twitter users continued to express their opposition to Bud Light. "An apology would have gone a long way Budweiser but, it's waaaay too late now," one Twitter user wrote.
"Thank you Bud Light marketing team," commented another. "You give my life meaning by coming by your account and trashing you."
"Really? Budweiser and Bud Light will spend millions on NFL commercials like it's business as usual, with ZERO commercials addressing the issue?" another tweeted. "I said before that, like the person whose only tool is a hammer seeing every problem as a nail, AB sees marketing as the solution to every issue. But, this is ridiculous. Go ahead and spend the money while we laugh, but it's getting to the point of foolishness. #GoWokeGoBroke."
Quipped another: "It's been almost 4 months since Bud Light destroyed their brand, but who's counting."
Amid the wave of criticism, several other Twitter users spoke out in defense of Bud Light.
"Every Sunday this upcoming season my fridge will be LOADED with Bud Light for the NFL!" wrote one supporter on Twitter. "And I can guarantee you that the [Super Bowl] party will have enough bud light for EVERYONE."
"I've had many a Bud Light watching football and have every intention to have many more!" posted another.
Taking aim at Bud Light's critics, a third commented: "I love reading all these comments about boycotts and such, and stating all the other beer brands they've decided to drink instead. As if any of them haven't promoted [LGBTQ+] Pride as well. It's almost like....love is love."
"The boycott has gone on too long, time to give it a break," wrote another Twitter user.
A Twitter post recently shared on Anheuser-Busch brand Budweiser's account regarding Major League Baseball (MLB) received a similar mixed response from users.
Over the past several weeks, a number of social-media users have also shared photos and videos of unsold Bud Light on store shelves and at venues. This is a bid to illustrate the purported success of the boycott of the beer brand.
Bud Light has implemented a variety of strategies to boost sales in recent weeks, such as offering steep rebates that made the beer free or nearly so in some areas.
On June 29, Mulvaney accused Bud Light's parent company, Anheuser-Busch, of turning "a blind eye" to the transphobic attacks she endured after her collaboration with the brand.
In a TikTok post captioned "Trans people like beer too," Mulvaney accused Anheuser-Busch of not reaching out to her at the height of the criticism.
"I was waiting for the brand to reach out to me, but they never did. And for months now, I've been scared to leave my house," Mulvaney said. "I have been ridiculed in public. I've been followed. And I have felt a loneliness that I wouldn't wish on anyone. If this is my experience from a very privileged perspective, know that it is much, much worse for other trans people."
While not directly naming Anheuser-Busch, Mulvaney added: "For a company to hire a trans person and then not publicly stand by them is worse in my opinion than not hiring a trans person at all because it gives customers permission to be as transphobic and hateful as they want. And the hate doesn't end with me. It has serious and grave consequences for the rest of our community. And we're customers, too. I know a lot of trans and queer people who love beer."