Critics of President Joe Biden have long used his age to question whether an 80-year-old is mentally fit enough to serve as commander-in-chief, and even Democrats are increasingly agreeing that he may be too old to lead the nation.
This month's Harvard CPAS/Harris Poll found that 43 percent of Democrats think Biden is showing he's too old to be president, an increase of 8 percentage points from June and an increase of 10 percentage points from May.
Biden, who took office at age 78 and will turn 81 in October, is the oldest president in U.S. history. If he is reelected in 2024, he will be 86 at the end of his second term.
The president's political rivals have attacked him over his age, pointing to a number of verbal and physical missteps he has made in public. Biden drew particular scrutiny last month after he tripped over a sandbag at the Air Force Academy's graduation ceremony.
Newsweek reached out to the White House for comment.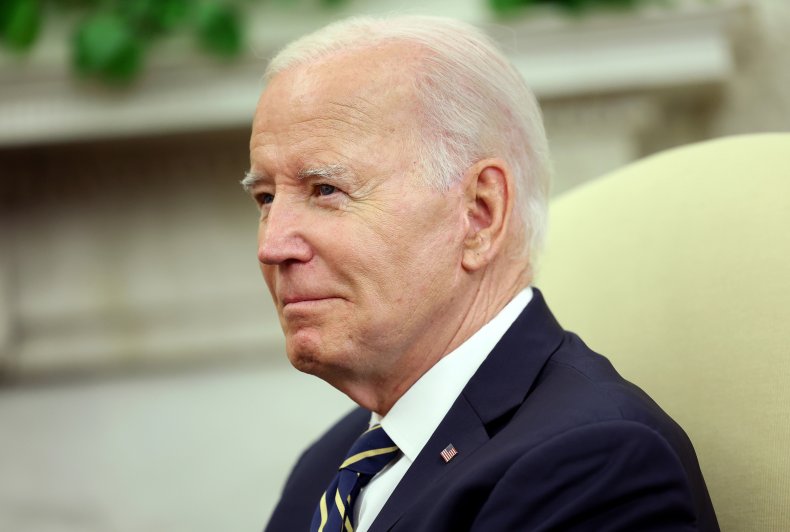 The July poll shows that while a growing number of Democrats are questioning whether Biden, at his age, should be president, the majority, 76 percent, continue to think that he is mentally fit for office. Comparably, last month, 70 percent described Biden as mentally fit.
However, other Americans aren't as confident. The survey conducted from July 18 to 20 shows that 85 percent of Republicans and 71 percent of independents have doubts about Biden's mental fitness, up from May's 83 percent and 65 percent, respectively.
NBC News reported on Monday that Biden's 2024 campaign is strategizing to minimize the physical toll of the job for the president while highlighting his decades-long experience as an electoral strength. The outlet said his team has been increasingly providing Biden with a shorter set of stairs for boarding and disembarking from Air Force One and offering shorter note cards for the president to read.
His team has insisted that complaints about Biden's age have served as a "good luck charm" for him as he has been able to deliver on a number of sweeping legislative packages. Others close to the president have argued that the moments that have gone viral are outsized and misrepresentative of Biden's leadership skills.
Biden has poked fun at his age at recent events, referring to himself as "198 years old" and joking that he has worked in foreign policy "for the last 270 years."
In a rare show of support, former President Donald Trump, the GOP's 2024 frontrunner, defended Biden's age, saying the ability to serve is "not an age thing" and that the same argument could be made against him, too. Trump turned 77 last month.