In an economy that's teetering between a recession and a soft landing, a possible strike at the United Parcel Service (UPS) could tip the scales in a disastrous direction. Contract negotiation between UPS and the Teamsters union have stalled, with the Teamsters threatening a strike that could have a drastic effect on the economy and cripple one of the most vital sectors of the economy. It's clear what President Biden needs to do: He must stand up to the Teamsters and prevent the strike.
His reelection depends upon it. Every incumbent is judged on the health of the economy, and recently, the prospects of a soft landing have substantially improved. That's in part due to the Federal Reserve's interest rate hikes and slowing wage increases, which have been the most difficult element of inflation to tame. Still, the most recent data suggests an annual wage pace of 4.2 percent, well above where the Fed is comfortable. This dynamic more than anything risks triggering more Fed rate increases and could be a catalyst to tipping the economy into recession.
Yet at this precarious moment, the Teamsters have decided to push for pay increases. The demands are simply too aggressive, and Biden needs to step in and make that clear.
After all, it's not like they aren't currently fairly compensated. Consider that UPS's competitors, FedEx and Amazon, do not have union employees, while the Teamsters, perhaps the most powerful labor union in the United States, has one third of its entire union employed at UPS. As a result, UPS Teamsters are highly compensated by any measure, with the average full-time UPS driver making $95,000 a year and senior tractor trailer drivers making upwards of $165,000 a year. They also receive no cost health coverage and other benefits, including pension contributions that total another $50,000 per employee. There is no doubt that these are substantially higher wages than most blue-collar employees across the country.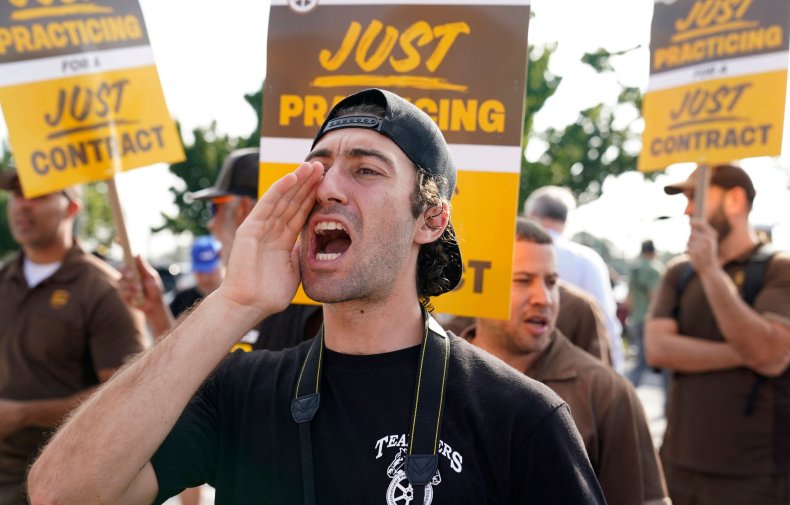 The essence of the current deadlock is not over these wages and benefits but over those of part-time employees, whose ranks have helped swell UPS's workforce by about 72,000 over the last five years. Part timers earn roughly $20 an hour, and the Teamsters are demanding an hourly increase of some 35 percent. And yet, like Uber drivers, many of these part timers employees choose to work only 15-20 hours a week, and at UPS, they can do so while receiving complete no cost health coverage, up to $25,000 in tuition reimbursement, and even pension benefits like full-time employees. By contrast, only 7 percent of part-time employees in the United States are provided access to pension benefits.
With the Fed concerned about wage increases, an increase for part-time workers of the magnitude sought by the union could easily set in motion the kind of inflationary pressures which would force severe Fed action and end up driving the country into a downturn just when the Biden campaign needs economic conditions to become more rosy, not less.
There is a pretty good case right now for the success of "Bidenomics". A strike that would be felt in millions of American households in such a visible way. UPS delivers over 20 million packages every day, injecting hundreds of millions of dollars into the U.S. economy by facilitating e-commerce for companies of all sizes. UPS also delivers about 25 percent of all ground shipments in the U.S., a volume neither FedEx nor Amazon could begin to absorb if a strike were to occur. A strike would be deeply felt by consumers and have an extremely damaging effect on retailers of all sizes, especially e-commerce companies which have been an incredible growth engine of the economy over the last several years.
Sean O'Brien, the Teamsters President, has his own difficult politics to navigate. Not only does he have a lot of part-time workers who were not previously represented by the union, but he has a contingent on his far left that seems to be pushing him hard to call a strike no matter what. UPS is obviously going to agree to an increase in wages for part-time workers among other concessions, including agreeing to one of the most important non-wage issues: providing more air conditioning in the delivery trucks, which would clearly be a major workplace improvement.
The most ironic outcome of a strike for Mr. O'Brien would be that at least some of the $170 million a day of business that UPS would lose would be picked up by two companies who only employ non-union workers.
Making matters worse, there's currently no Labor Secretary and any kind of confirmation hearing has stalled, leaving a void at the Labor Department at a time when a deft, behind-the-scenes hand is needed to steer overly aggressive union demands toward a resolution.
For those of us who are anxious for Biden to be able to run on his record of an improving economy, getting the parties back to the table to hash out this part-time worker issue is critically important. It's time for cooler heads to prevail and take a strike off the table in order to safeguard the economy, the interests of American consumers, and President Biden's reelection campaign.
The Biden administration needs to stand up to the Teamsters and make clear their ask is way too high.
Correction: An earlier draft of this piece incorrectly stated that the Teamsters had endorsed Joe Biden for President. The Teamsters have not yet endorsed in the presidential race. We regret the error.
Tom Rogers is an editor-at-large for Newsweek, the founder of CNBC and a CNBC contributor. He also established MSNBC, is the former CEO of TiVo, and a member of Keep Our Republic, an organization dedicated to preserving the nation's democracy.
The views expressed in this article are the writer's own.