An 1,800-year-old marble figurine, depicting an aquatic water nymph, has been unearthed by archaeologists during excavations of an ancient Roman bathhouse.
The site, named La Alcudia, is located near the city of Elche in southeast Spain. The baths date back to the second-century A.D. and formed part of ancient Ilici, one of the most important Roman cities of the southeast Hispania.
"This Roman city was founded in the second half of the first-century B.C., and was founded by Emperor Augustus," archaeologist Jaime Molina Vidal, a professor of ancient history at University of Alicante, told Newsweek. "We don't know a lot about the urbanism and the buildings of this Roman city, but we know that it had at least two public baths.
"The one where we are performing our investigation is Eastern Baths," the professor added.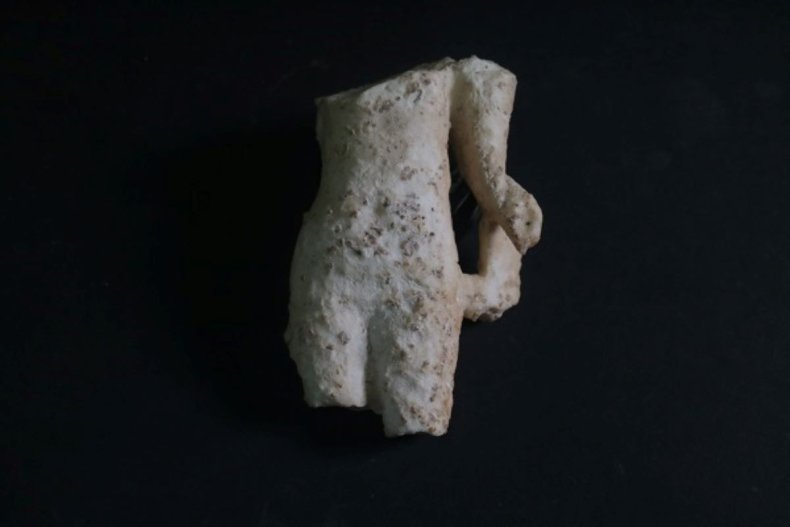 Molina is a co-director of the excavation project, together with fellow researchers Francisco Javier Muñoz Ojeda and Juan Francisco Álvarez Tortosa.
The baths boast one of the largest preserved Roman pools in Spain, and the floors are paved with a series of rich mosaics that are being restored. However, this delicate figure turned up in an unusual location.
"This figure was not in its original place," Molina said. "The sculpture belongs to the initial phase of the baths, when they were built, at the beginning of the second-century A.D. [However,] it has turned up in a garbage [heap] from a later phase after the destruction of the baths."
In spite of these unceremonious surroundings, it soon became clear that the figure was of some religious significance. "The figure was pretty clean, and it's made of good-quality marble," Molina said. "[It] would be part of a religious complex related to the cult of water that would be in the same thermal complex."
Exactly which deity was being depicted was less obvious. "It is a naked woman, which could make one think of Venus, but she has a cornucopia [horn overflowing with fruits, flowers, and grain] in her left hand, which would rule out the goddess of sex and love," Molina said. "After a close examination of the figure, we think that it is a representation of a water nymph, who holds a horn of plenty."
The figure is just one of several important discoveries at this site, and the second figurine to be found since 2017. The first statuette was made of bone and depicted a naked woman with a cloak thrown over one shoulder. The university's Vice President for Research, Juan Mora, says that 90 percent of the site is yet to be uncovered.
"In archaeology, we always explain to the students that we are not looking for treasures and that nice archaeological artifacts are not really important," Molina said. "What we are looking for is the information that we can get from the artifacts and its context. But we can also say that, from time to time, it is wonderful to find such a beautiful artifact like this figure."
Once the analysis is complete, the figure will be kept at La Alcudia University Foundation (University of Alicante) for Archaeological Research.