Former Russian military commander Igor Girkin on Tuesday was defended as a political prisoner in a message from jailed Kremlin critic Alexei Navalny, who is known to hold markedly different views than Girkin.
Girkin, also known as Igor Strelkov, rose to prominence in Russia for serving as a commander in the country's military but later became a prominent critic of how Russian President Vladimir Putin is conducting the war in Ukraine.
On Friday, Girkin's wife announced her husband had been arrested for allegedly inciting extremism by Russian security service (FSB) officers. A Russian court later that day sent Girkin to two-month pretrial detention on an extremism charge for criticizing Putin and senior military officials. He pleaded not guilty.
Navalny, meanwhile, has been in jail since February 2021 under major fraud and contempt of court charges. In April, he stated on social media that he is now facing additional extremism charges that could keep him locked up for life.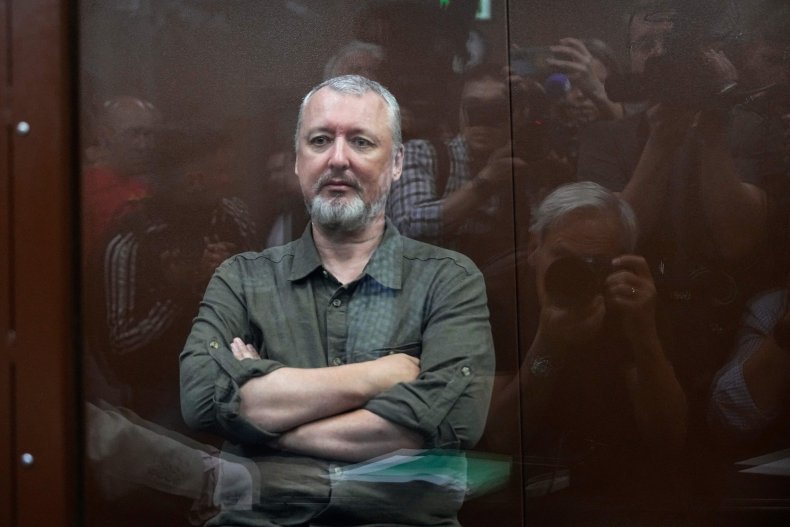 In the past, Navalny has clashed with Girkin over Ukraine, but in a Tuesday Telegram post, he said Girkin "was detained illegally."
"As long as he remains in custody on this ridiculous and obviously politically motivated charge, he is a political prisoner," Navalny wrote. "Now Strelkov is arrested not on charges of committing a real crime, but on a fictitious and fabricated case of extremism.
"Basically, for criticizing the authorities...Regardless of the views of Strelkov, we must stand on the positions of law and justice. A person can only be judged for the crime he committed. To gloat that Strelkov fell victim to his own power is to publicly support lawlessness," Navalny said.
Earlier this year, Girkin co-founded The Club of Angry Patriots social movement, which supported the Russian invasion of Ukraine but denounced the war's slow progress and heavy casualty rate.
Girkin's arrest followed months of the army veteran condemning the Kremlin's handling of the Ukraine war and came just days after he referred to Putin as a "lowlife" and a "cowardly bum."
Newsweek reached out to the Russian Ministry of Foreign Affairs via email for comment.
Girkin was reportedly instrumental in Russia's 2014 annexation of Crimea during his time in Putin's military and commanded Russian militants in Ukraine's Donbas region. It was his views on Ukraine and Russian nationalism that led to arguing when he engaged in a televised debate with Navalny in 2017.
At the time, Navalny was running as an opposition candidate for president against Putin, though he was later barred by Russian officials from participating in the 2018 election due to a fraud case. During the debate, he accused Girkin of pushing Russia further into conflict in Ukraine while Girkin said Navalny would betray Russia with policies related to Ukraine if he was elected president.
However, according to an account of the debate by Radio Free Europe/Radio Liberty, Girkin and Navalny did find common ground by agreeing that Putin's government is "corrupt."